Welcome to the newest edition to the Face Up family. It's possible you have followed this column in our magazine or in our previous online edition, but now we are adding on to the franchise in order to showcase more covers from every corner of the magazine media industry.
"Face Up Online: Report Card Edition" is exactly what it sounds like—a grade book for magazine covers.
We have enlisted five industry design pros to analyze the covers and offer their grade. Then we put the scores together and create one aggregate grade.
Every month we will mix up our selection to reflect great design or culturally relevant subjects.

Report Card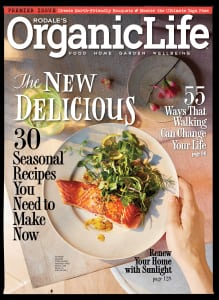 Title: Organic Life
Publishing Company: Rodale
Issue: May/June
Editor: James Oseland
Creative Director: Christin Gangi
Why It Matters: This is Organic Life's debut issue after it rebranded from Organic Gardening. Organic Gardening was the flagship brand for Rodale and was launched in 1942 by the company's founder J.I. Rodale.
The Good: The cover effectively communicates what the magazine is all about.
The Bad: Awkward coverlines; too many fonts; a photograph that feels more like a stock image; black frame seems out of place; "Premier Issue" roofline seems especially disjointed
Cover Grade: C-
Title: Cosmopolitan
Publishing Company: Hearst Magazines
Issue: May
Editor: Joanna Coles
Creative Director: Tracy Everding
Why it matters: Cosmopolitan is celebrating its 50th anniversary in May. Like the coverlines say, "Need we say more?" This is not the first time Madonna has shown up on a big Cosmo cover, 25 years ago she also graced the magazine's anniversary issue.
The Good: Smart use of a mega celebrity; nice photography and color schemes; excellent newsstand pitch
The Bad: Busy; the split run looks more like an A/B test
Cover Grade: B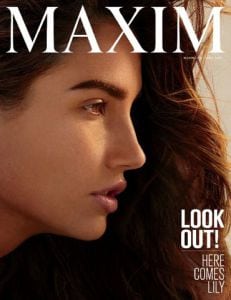 Title: Maxim
Publishing Company: Biglari Holdings
Issue: May
Editor: Kate Lanphear
Creative Director: Paul Martinez
Why it matters: Maxim has had its ups and downs over the past few years but after new ownership and an editorial shake up, the brand seems to be settling in. Here, it's May issue, featuring Lily Aldridge, looks much less like a laddy magazine and much more like a fashion book.
The Good: Excellent photograph; clean design; smart coverline, solid composition
The Bad: Logo is huge and not developed as well as it could be; may not be enticing enough for a Maxim reader to pick up on a newsstand

Cover Grade: C+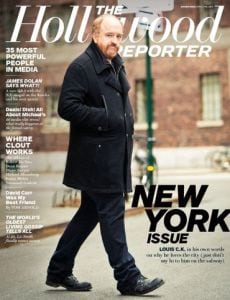 Title: The Hollywood Reporter
Publishing Company: Prometheus Global Media
Issue: April, 17
Editor: Matthew Belloni
Creative Director: Shanti Marlar
Why it matters: For The Hollywood Reporter's "New York Issue," the magazine features a native Bostonian turned New Yorker. Comedian Louis C.K.'s fifth season of "Louie" began in April, so his appearance on the issue is well timed. And fans of C.K. might say his facial expression in the photo capture's the comedian's personality perfectly.
The Good: Great photograph and composition; nice bold headline with a good font choice
The Bad: A lot of the text on the left side of the cover that is difficult to read and doesn't add to an otherwise solid cover

Cover Grade: B+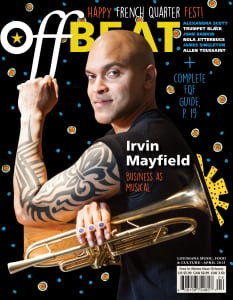 Title: OffBeat
Issue: April
Editor: Jan Ramsey
Art Director: Elsa Hahne
Why it matters: Few cities can get away with their own regional magazine dedicated to its music scene, but New Orleans is certainly one of them. OffBeat's April issue was a prelude to the city's French Quarter Festival and features the city's official cultural ambassador, Irvin Mayfield Jr.
The Good: This cover screams New Orleans; fun, complementing illustrations
The Bad: Weak text treatments that are all but lost on the busy cover; Mayfield's pose and placement seems very unnatural; overall execution could have been better


Cover Grade: C