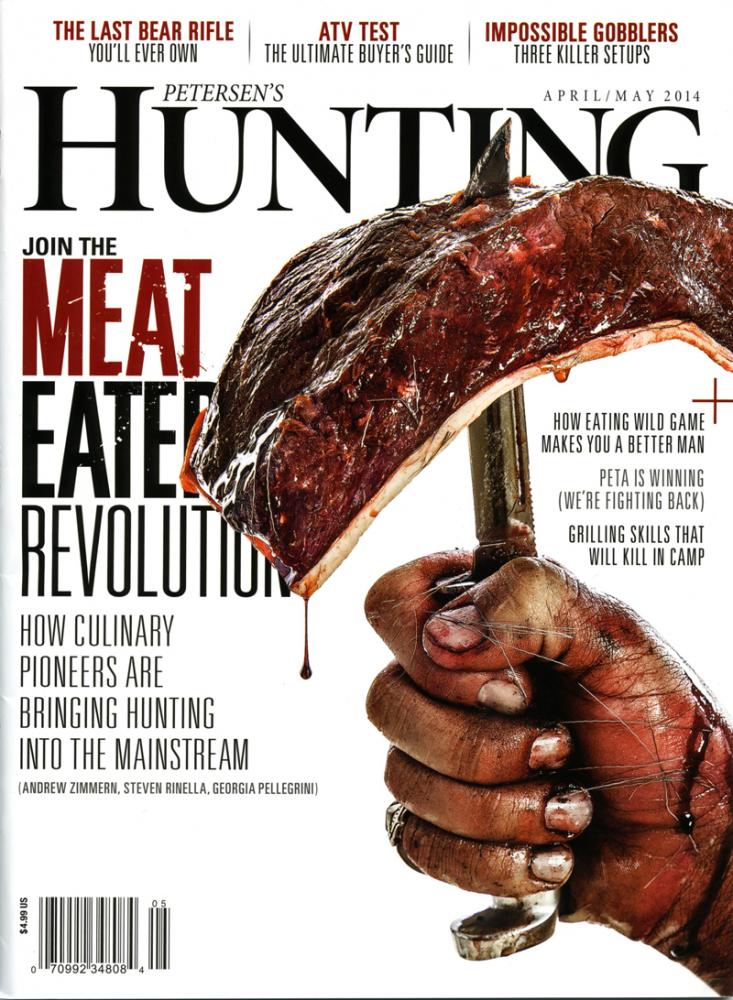 The April/May 2014 cover of Petersen's Hunting magazine is a big departure for the popular outdoor publication. It features a striking photograph by Lee Thomas Kjos that is a sleek, graphic image of a raw slab of game meat stuck with a hunting knife, held by a manly, blood-covered hand. There's so much testosterone on this cover that I can feel the hair growing on my chest (and other places). I love it! For added graphic effect the meat is dripping blood, and the hand is covered with hair from the kill. I have to admit upfront that I don't eat meat, so the cover holds no emotional or tasty appeal for me. But it certainly is one of the more memorable, provocative and ground-breaking outdoor magazine covers in recent memory.
The cover headline is "Join the Meat Eater Revolution," with a smart and effective underline that highlights a very interesting story about how foodies, chefs and TV food shows are expanding hunting to a new, younger audience. Like the story inside, the cover seems designed to expand Hunting's reach to a new group of readers. Traditional Hunting covers fall into three categories:
1. a portrait of a high-tech hunting rifle; 2. a photo of a wild animal, generally a buck, bear or wolf; 3. a rugged dude with a gun and dead game. In fact, as I looked back at past issues, I couldn't find another cover of Hunting that didn't feature a gun or an animal.
The April/May cover created by art director Tim Neher is very modern and artful, the kind of design and image one would expect to see on one of the "intellectual foodie" magazines that are mentioned in the cover story, or even someplace like New York magazine. The white background, the shiny, high-detail photograph, and the sophisticated typography all combine for an arresting cover that jumps off every platform. I do question to what extent the bulk of Hunting's readers will appreciate this very contemporary design. My own experience with enthusiast magazines is that their readers tend towards very traditional approaches to content and imagery. I assume that the guns and game style of previous Hunting magazines is popular with their readers, and I'll be very curious to hear the response to this cover.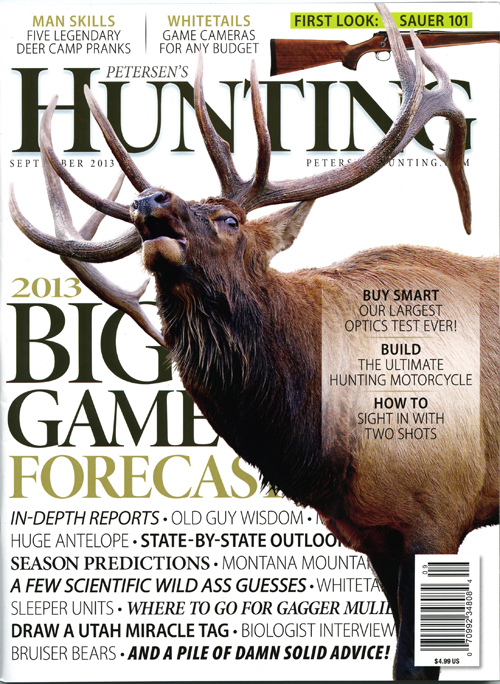 I have a couple criticisms of the cover typography. First and foremost, Hunting has an unorthodox habit of using the cover image to obscure a good chunk of their cover headlines. They do it here, and have done it previously on the March 2014 "Predator Rifle" and September 2013 "Big Game Forecast" issues. Now, I'm all for pushing the envelope on covers, but I tend to want to see the headlines full and complete for the most effective reading. I also have some beef with one of the secondary headlines, "Grilling Skills That Will Kill in Camp." Generally I think it's never a good idea to reference cooked meat and dying in the same thought, but a bigger problem is that the story is actually a gear guide, with the much funnier and better headline inside "Grills Gone Wild." There may be a grilling tip or two, but to be accurate, as the editors say in the story's subhead, they "field-tested the hottest grills on the market."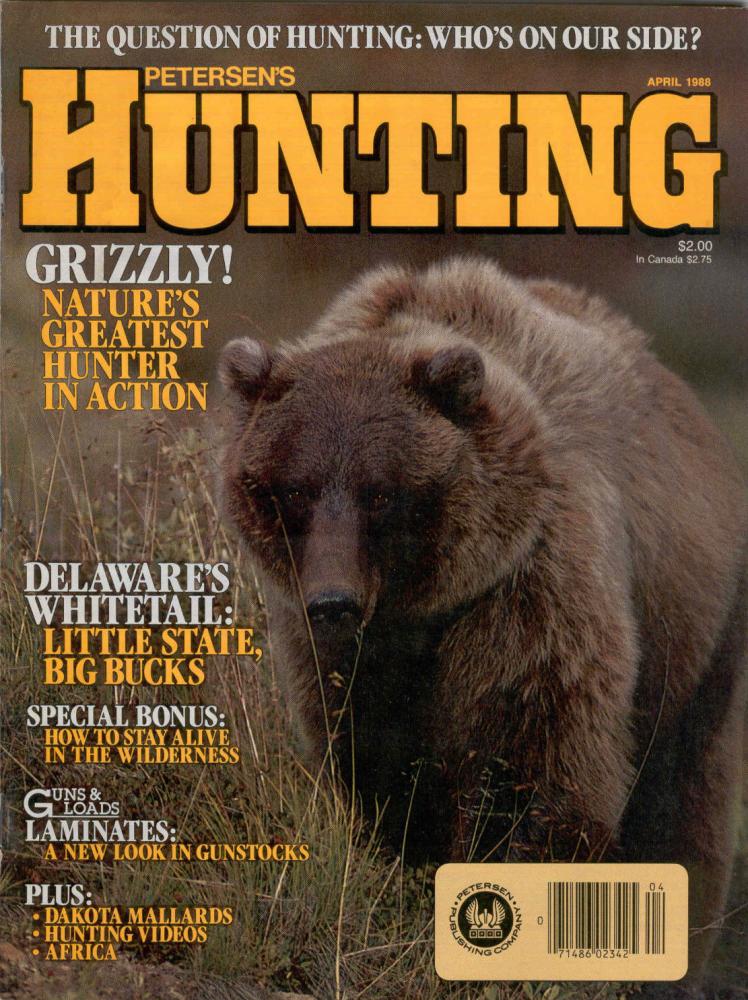 More importantly, I think that the typography and design on the cover, separate from the brilliant image, is a little too delicate and under-baked. The light, thin type seems at odds with the overall message of the magazine. I'd prefer to see some bolder, huskier, aggressive typography to match the cover photograph. For that matter, I really miss the old Hunting logo, which was replaced by the current one several years ago. It was very distinctive, had a lot of character and it bounded off the cover. The new logo looks out of place and to my eye would fit better on one of those "intellectual foodie" magazines.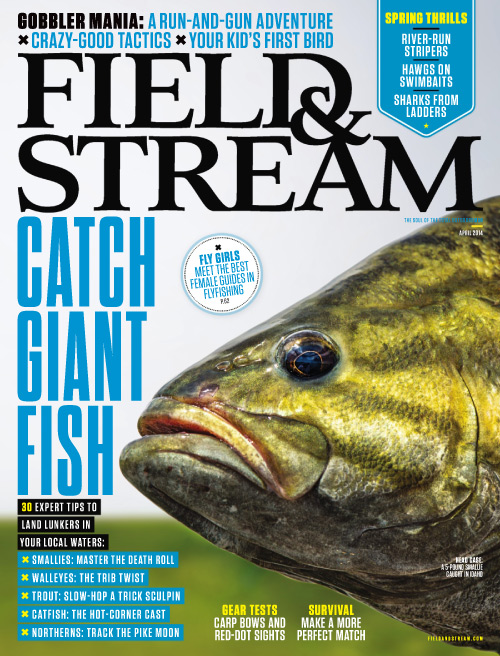 Interestingly, recent covers from competitors also feature close-up still life photographs. The April 2014 Field & Stream shows a huge fish head ("Catch Giant Fish" is the cover headline), and the May 2014 Outdoor Life features a large ax, accompanied by a headline that reads "Great Blade Skills." Both covers have a nice mix of headline styles, color and supporting graphics that are much more energetic and engaging that those on the Hunting cover.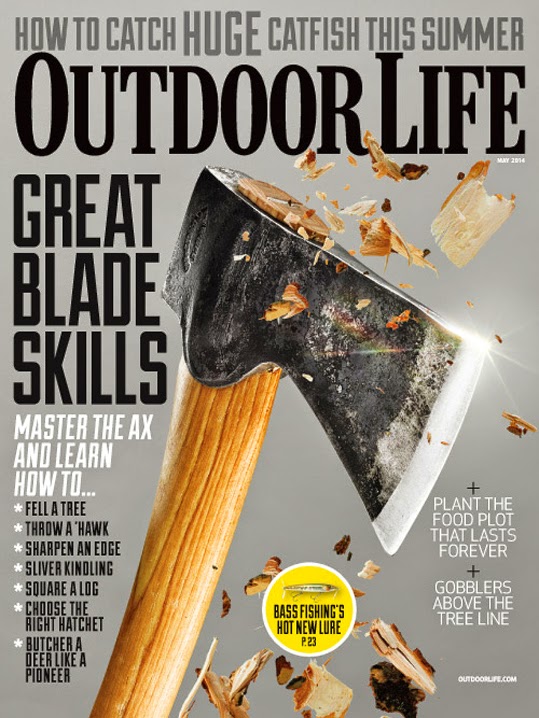 All that said, I really like this cover a lot, and congratulate the editors and visual team for creating such a smart, remarkable departure from their previous work. Regardless of any flaws, this cover is imaginative and graphic, and shows a passion both for rugged magazine-making and the content inside.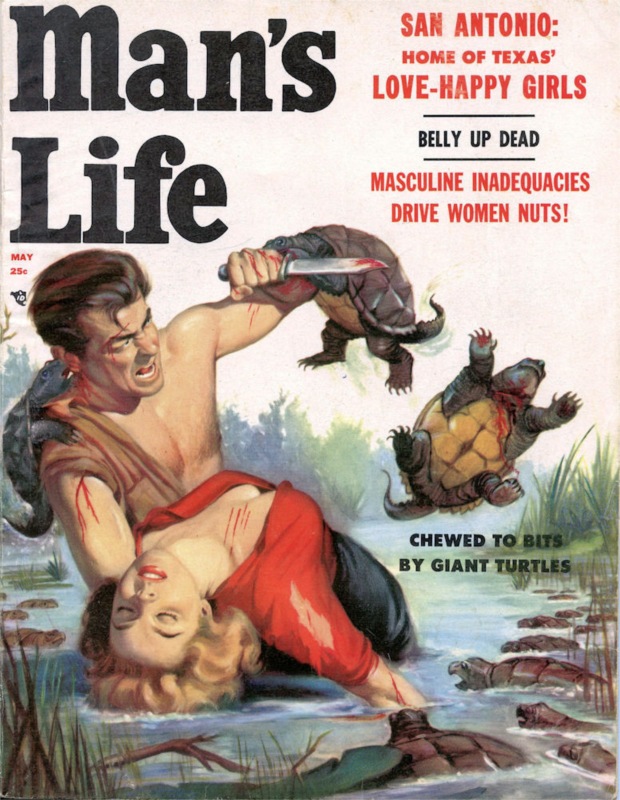 Regular readers of Face Up know that I'm obsessed by old school magazine design. Any discussion of outdoors and hunting magazines would not be complete without a mention of the covers of Outdoor Life, Sports Afield, Field & Stream and others from the early days of the 1900s up to about 1960. During that time the covers of those magazines usually featured beautiful, elegant illustrations, done in a suitable-for-framing style. And then there were the men's adventure magazines, which featured heart-stopping images of real men battling nature. There are numerous websites out there now that display these vintage covers, and offer reproductions for sale. Two that I spend way too much time visiting are Magazine Art and Classic Outdoor Magazines.