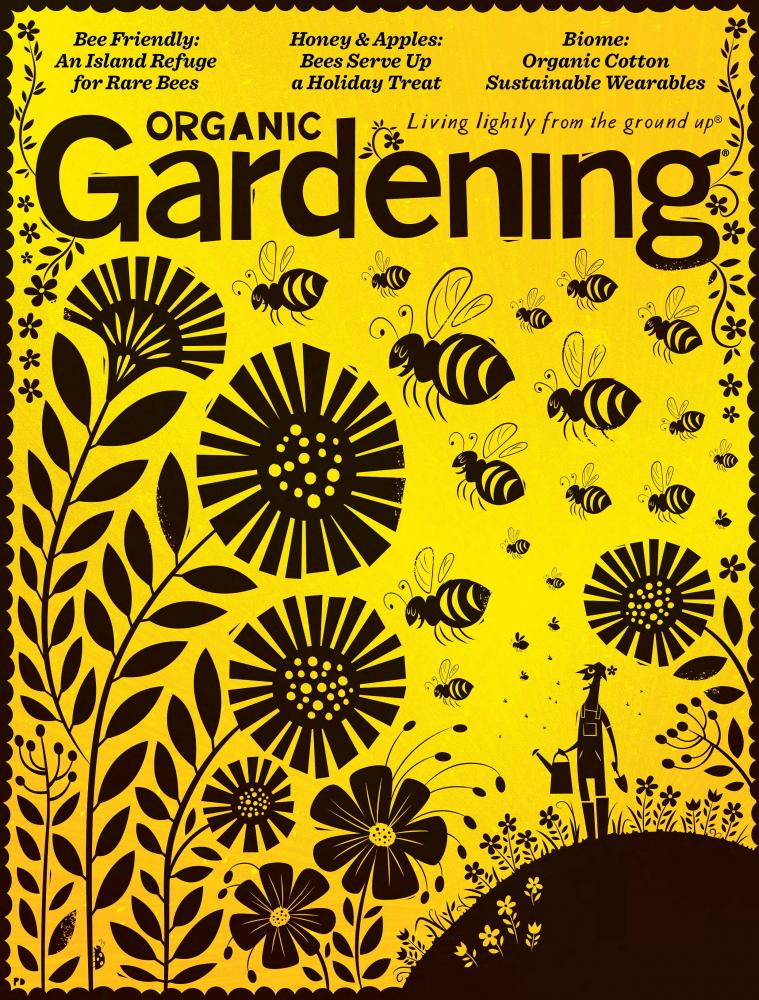 The August-September cover of Organic Gardening showcases a very different approach for a gardening and lifestyle magazine. The cover is completely illustrated by Peter Donnelly, right down to a redrawing of the logotype. With its simple, bold colors and whimsical style, the illustrated cover feels more like something from a children's book than a gardening magazine, but that's just fine with me. I think it's a bright, bold and forward-looking statement, a design that sets the magazine apart as distinctive and original. Its style feels homespun and yes, organic, and just right for a magazine that has cover lines about bees, honey and sustainable wearables. I can imagine that this strikes a positive note with potential readers when they see it in the checkout aisles at Whole Foods or their local health food store or food co-op.
Still, I have to ask: What's going on here? Has Organic Gardening decided that it's the natural lifestyle version of The New Yorker? I love the magazine's recent cover illustrations, and they do remind me of some of the beautiful New Yorker covers from the 1960s and 70s, before their covers got much cooler and more topical. The past two Organic Gardening overs are so striking that they should be turned into posters.

Organic Gardening started running illustrated covers with their April/May 2013 issue. They've done a couple more since then, most recently on the June/July 2014 cover, which featured a beautiful illustration of a woman holding a bowl of fruit, created by Denise Hilton Campbell. That illustration was delicate and lyrical, with floating butterflies and a good deal of the logo obscured by the woman's head and tree leaves. Magazine art director Susan Eugster has shown considerable skill at assigning the art for these recent covers and designing them in a very elegant format. I score these last two Organic Gardening covers as two of the best and most original American magazine covers this year.
However, let's hope the magazine's creative team sticks with this new illustrated format. For the past year, Organic Gardening swung wildly between varieties of cover designs. Those covers have gone from full-page photographs to illustrations to a chock-a-block grid of images. And they rotate between putting all the cover lines above the logo (which I like a lot) and running one main headline more prominently. All of these covers individually are very well done and quite beautiful in their execution. But together it's a jumble, and looks like a magazine in search of an identity (or struggling for newsstand sales). It may be that we've been watching a magazine go through a challenging and experimental phase to reach what is a very holistic cover design approach.
With the exception of the New Yorker, these days it's rare to find a magazine that will use illustration on the cover this aggressively. Politically oriented publications like Mother Jones and The Nation, and even occasionally Time use cover illustrations, but they tend to be caricatures or portraits. You have to reach back to the old Reader's Digest covers pre-1970 to find something this beautiful. Of course, there was a time from the 1920s-50s that magazines almost always featured sophisticatedly illustrated covers. This latest Organic Gardening cover is a throwback to that time, although the style of the artwork is highly contemporary.
And that might be the key to this current Organic Gardening look. It feels classic, old school, rooted in tradition, and as noted before, very organic in its presentation. Yet the style of the design and artwork is very contemporary, so it doesn't feel nostalgic or retro. There's a blog on the Organic Gardening website by Maria Rodale, who is chairman and CEO of the magazine's parent company. Her blog's mission statement includes "instilling a sense of responsibility about making the world a better place, respecting nature, and doing it all with a good strong dose of love." This could very well be a mission statement for Organic Gardening, and their new illustrated cover design advances it perfectly.