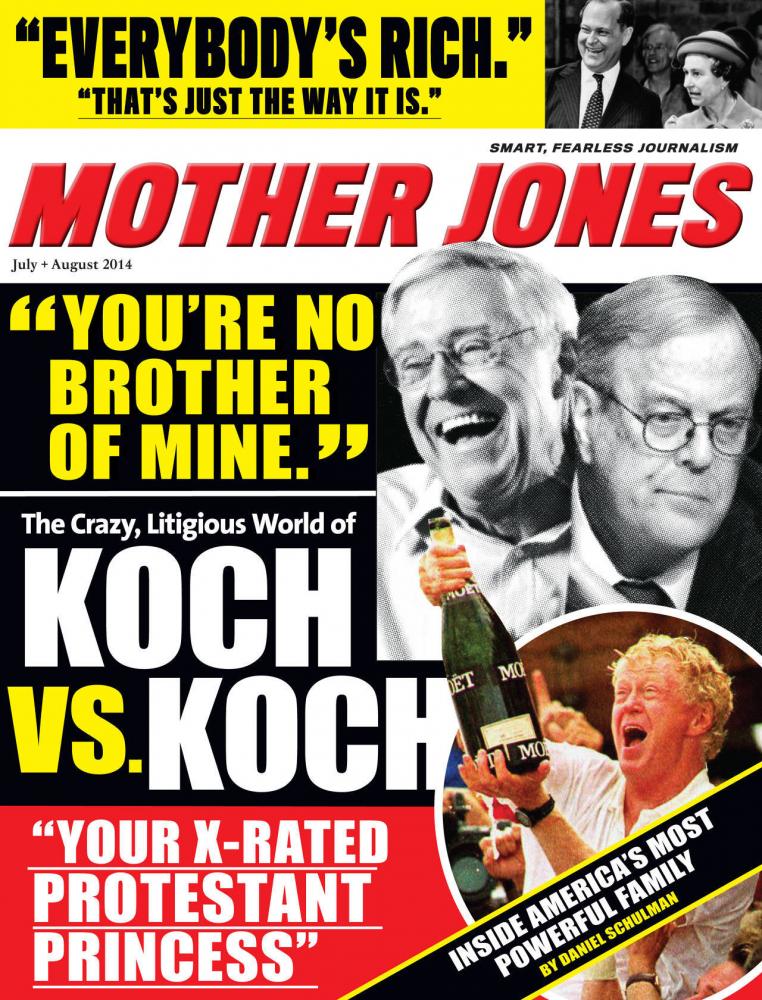 When I was just starting out in publication design, I worked at a small monthly left-wing newspaper in Washington, D.C. We used to joke that we wanted the paper to be the National Enquirer of progressive politics, and even designed a tabloid-style logo. Years later in the early 1990s, when I became art director at The Village Voice, I played those ideas out further, using big screaming headlines, loud primary colors and graphic photo treatments. So it warmed my heart when I saw the July/August cover of Mother Jones, which gives a jagged, shouting tabloid treatment to a story about right-wing bogeymen the Koch Brothers.
The parody, designed by creative director Ivylise Simones, is spot on, with just the right mix of funkiness and visual chaos. The design holds nothing back, right down to the Mother Jones logo, which was redesigned for this issue to reflect a tabloid feel. The result is a cover that is fun, engaging, provocative and viral-ready. It takes a strong partnership between the editors and the visual team to create this kind of high-level, sophisticated cover design and it works brilliantly, crafting a set of images that work on so many levels.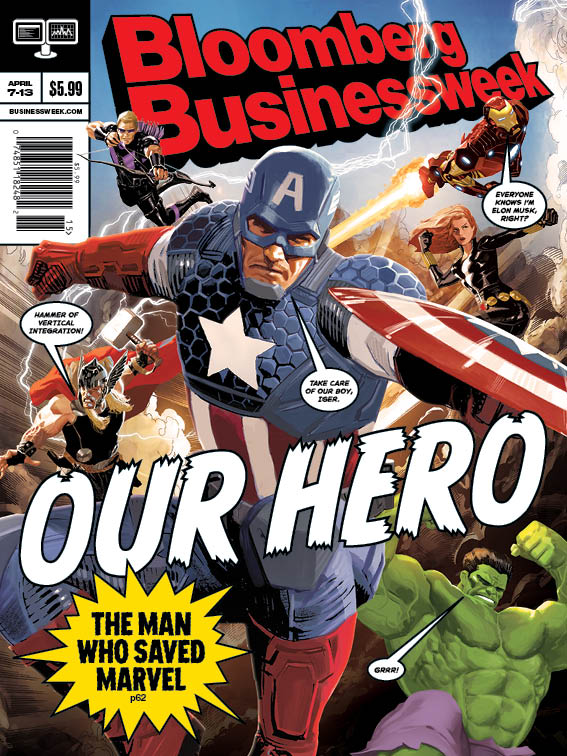 Conventional wisdom is that a magazine's logo is sacrosanct, a critical part of the brand that should never be messed with, and I'm sure the Mother Jones logo change will confuse a few readers. Yet, what the magazine gains is a dynamic, comprehensive graphic approach that not only jumps off the page, but is destined to work quite effectively online and across the magazine's multiple platforms. Apparently altering logos to fit stylized covers has become a trend, because it's been done recently to great effect by both Bloomberg Businessweek (who have done it at least three times over the past year) and The New Republic.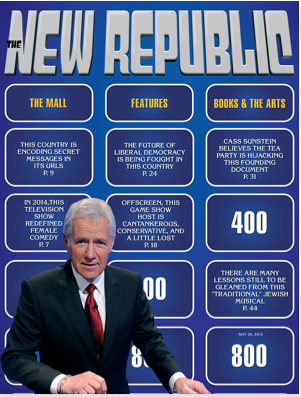 For a recent cover story on Jeopardy TV host Alex Trebek, The New Republic designed itself to look like the famous Jeopardy game board, altering its logo to mimic the show's distinctive trademark. In early June, Bloomberg Businessweek published a story on progressive economist-of-the-moment Thomas Piketty designed to look like a teen fan magazine, complete with a bubble gum logo and small photos of both Justin Bieber and Karl Marx. Both covers take complicated, unsexy topics, but with graphic stylization they turned them into dynamic, pulsating covers, and the same is true with this Mother Jones cover. Of course, there's a long history of magazines designing covers to look like LP covers, posters, books, product packaging and more. It's very exciting that magazines that cover topics that are generally not considered flashy and cool (politics and business) are creating some of the liveliest, hip and memorable covers.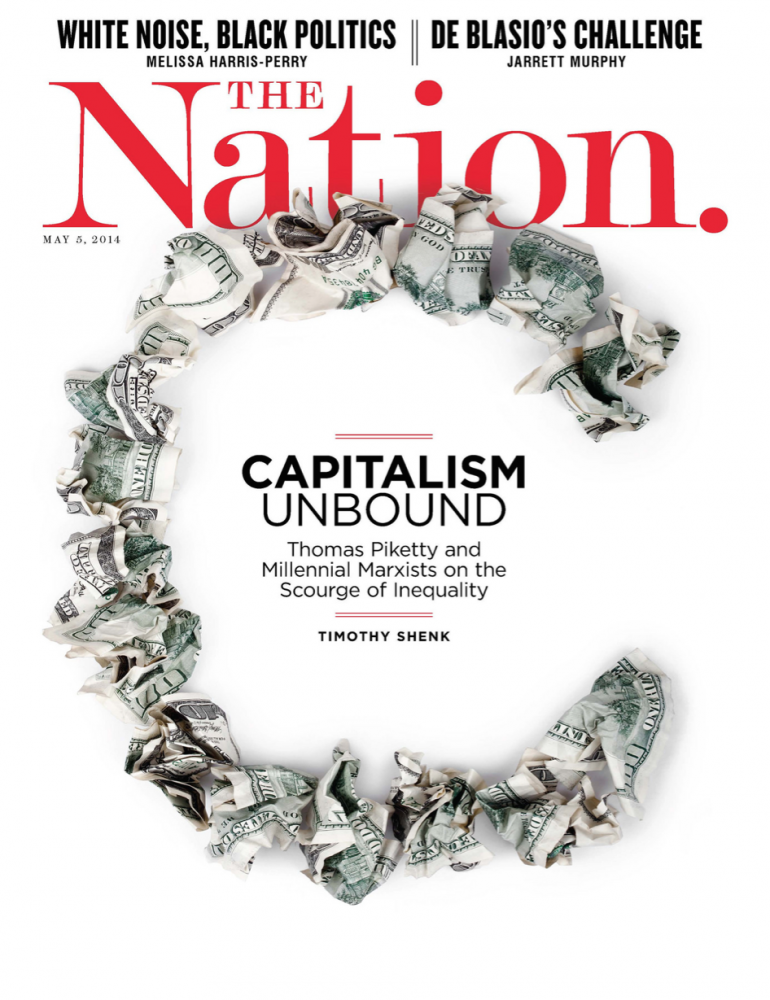 Lately there has been a true renaissance of cover design at some of the most notable liberal magazines. In addition to Mother Jones, The New Republic (creative director Dirk Barnett) and The Nation (creative director Robert Best) have all been turning out exceptional covers. Each have their own unique style: Mother Jones is polished and provocative, perfectly designed to be spread around on the internet; The New Republic is thoughtful, stylish, cutting edge, and very contemporary; The Nation, with its limited budget and weekly publishing schedule, has a funky, homemade, gonzo feel like many of the altweekly newspapers. There's a powerful energy and passion that runs through all three designs.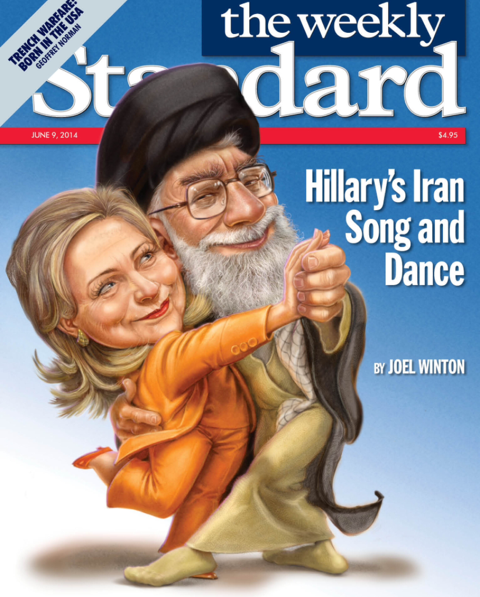 That raises this question: Why do liberal magazine covers look so much better and smarter than their conservative counterparts? While many liberal mags are having a design renaissance, two of the most prominent conservative publications, the National Review and The Weekly Standard, look dated and uninspired. The lefties have enthusiastically embraced a wide array of graphic techniques, modern illustration and typography and just flat out coolness, whereas the conservative magazines tend towards very crude and sophomoric illustrations–stuff that often looks one step above what you would see in a college newspaper (and sometimes not even that good!).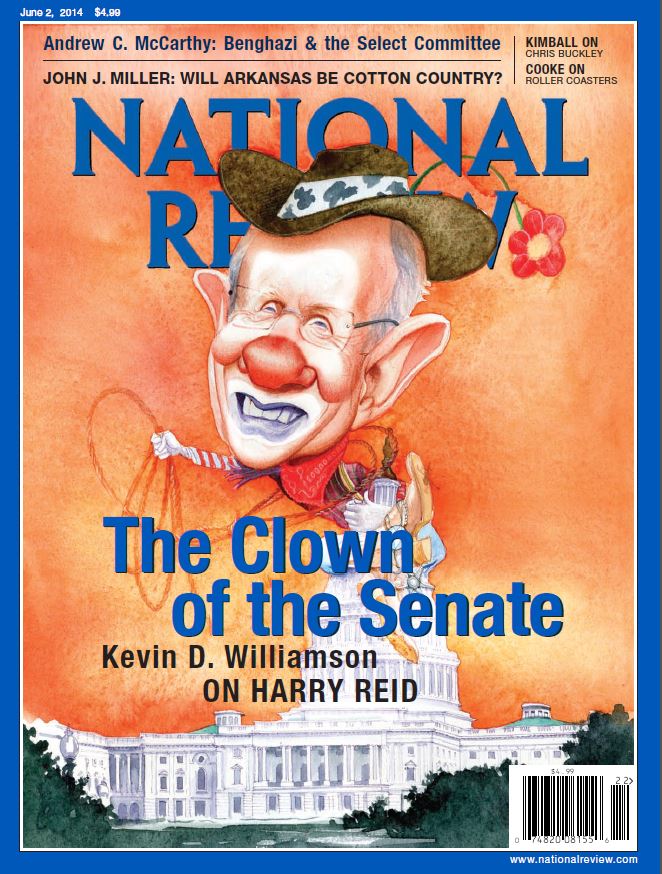 The design of the National Review and The Weekly Standard covers looks straight out of the 1980s. Given that both publications wax nostalgic for the days when Ronald Reagan was President, there's certain logic to their resistance to enter the 21st Century in terms of cover design. The irony is that the National Review created brilliant covers in the 1960s and 70s; smart, edgy, graphic, nicely illustrated and very cool for their time. Also, given the fact that the National Review has a very vibrant, up-to-the-minute website and social media presence, their lack of a modern cover design is even more baffling.
Good cover design does not stem inherently from any particular political ideology, although I think it's safe to say that the vast majority of art directors, illustrators and creative magazine makers in the New York/Washington publishing scene lean to the left. Still, there are several conservative publications (most notably The American Conservative) that have crafted some smart looking covers. (Full disclosure: I helped create the initial design of The American Conservative when it launched in 2002). Political blogger Andrew Sullivan has popularized the concept of epistemic closure to describe the bubble that the right-wing media and many of its supporters operate within, shielded from other opinions and data-based facts that might upset their belief system. What's notable about the Mother Jones tabloid-styled cover is that's it's an attempt to expand the magazine's voice and reach beyond its traditional readership, and also an acknowledgement that there's a place for modern approaches in cover design for political publications.