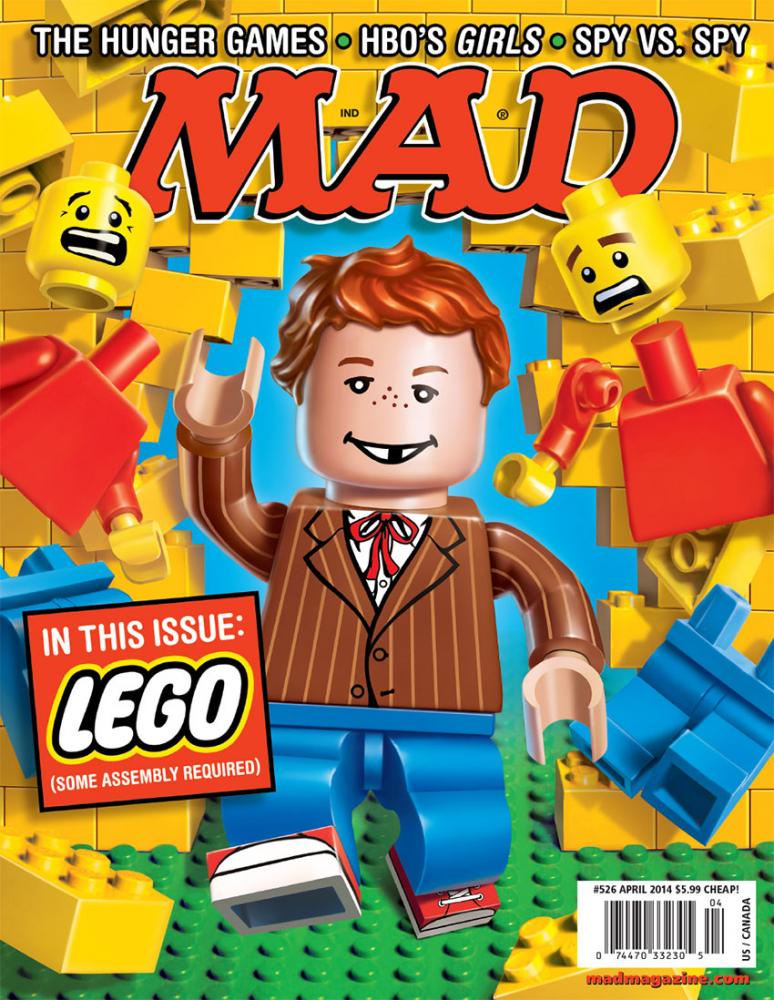 Mad magazine's April 2014 cover parody of The Lego Movie is bright, fun, engaging, and perfectly executed, with a smart illustration. This cover not only fits right in with Mad's snarky, wacko cover legacy, but would also feel at home on the front of Entertainment Weekly or Time (without the Alfred E. Neuman character, of course!). It's a grown-up cover on a young person's magazine.
Like many folks my age, I grew up reading Mad, and of course my parents thought it was a corrupting influence and threw out as many copies as they could find. Somehow I kept buying issues and sneaking them into the house, hiding them under my bed. When I look at those issues from the 60s now, they seem very tame compared to the current edition, which is much more risqué in terms of sex and general raunchiness. That level of provocative offensiveness is exactly what appeals to a younger audience!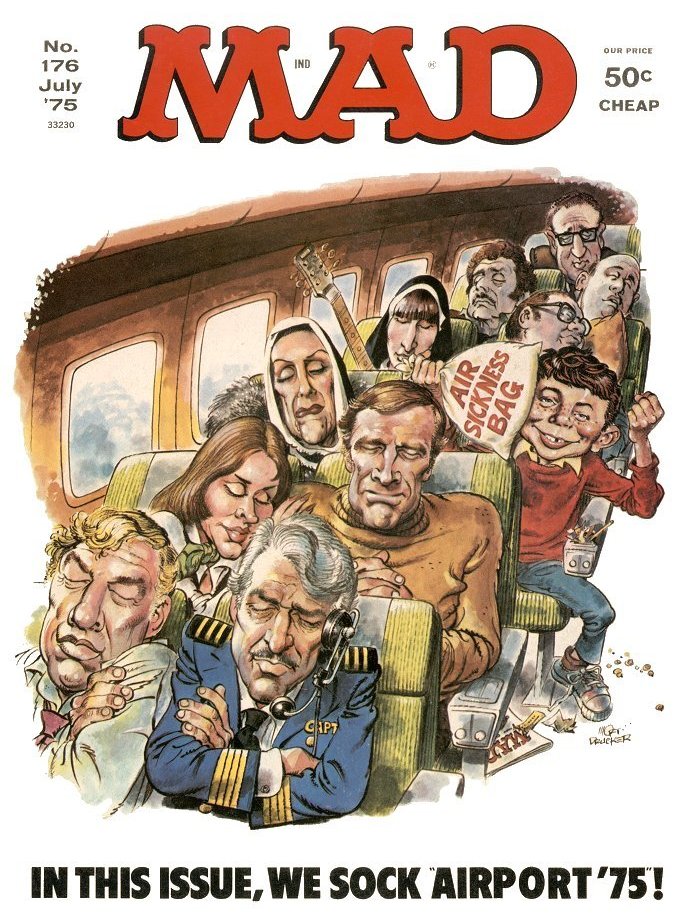 The basic Mad cover hasn't changed much since the late 60s. They still heavily rely on parodies of popular TV shows and movies combined with the antics of Alfred E. Neuman. The April issue, illustrated by Mark Frederickson and art direction by Sam Viviano, is something of a departure. Recent covers have been rawer, somewhat gross and more juvenile. Mad's February 2014 cover, also illustrated by Frederickson, featured a nasty image of Miley Cyrus and her now infamous twerk. Another cover from last year depicted, in a very rough, cartoony style, Alfred E. Neuman peeing on an amusement park water slide (this is Mad, after all). Frederickson is a frequent cover illustrator for Mad, essentially taking the place occupied by Norman Mingo on the classic covers of the 1960s and 70s. He's a highly skilled artist who works in multiple styles and who has a great sense of humor.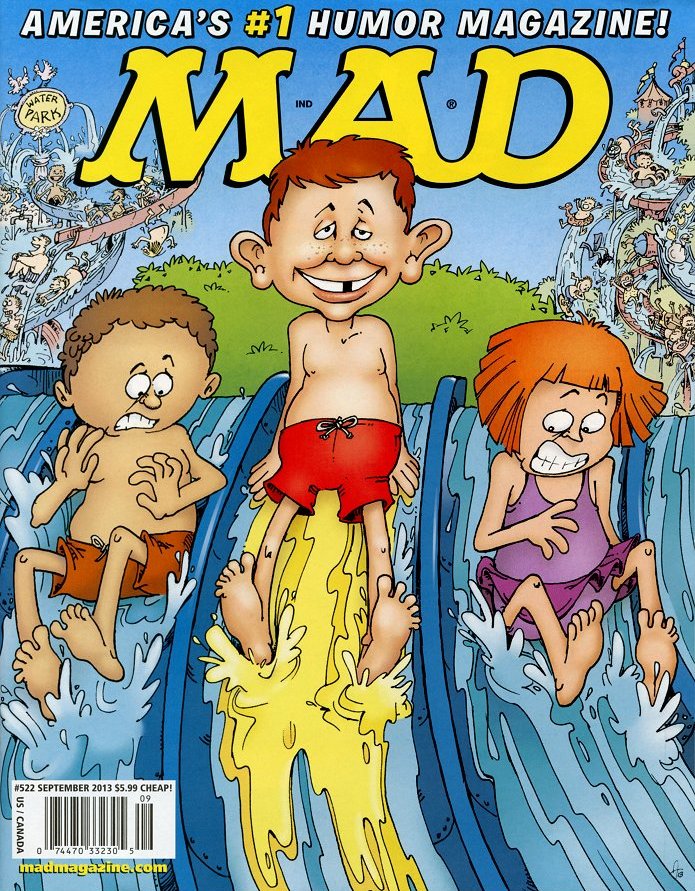 I love the artwork on this cover, and I love the way it works as a stylistic whole, parodying both The Lego Movie poster and Lego packaging in general. Rather than just being a funny illustration slapped on to a Mad cover, this is a brilliant, holistically-designed package, complete with Lego logo and integrated typography. It's highly-sophisticated conceptual work. I wish more magazines took this kind of overall care, both with imagery and design.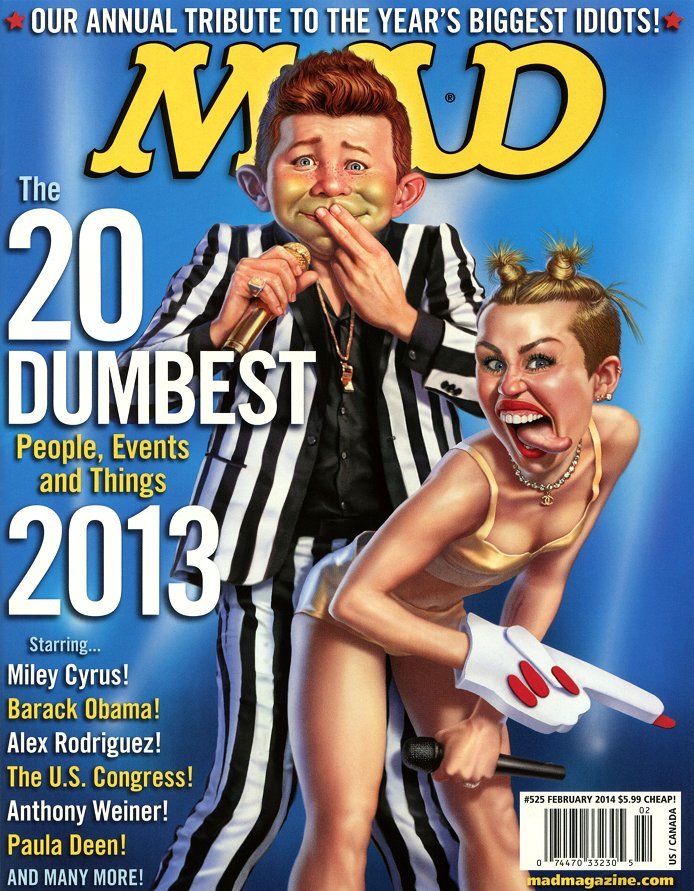 But wait a minute! Is that a good thing for a magazine like Mad? I called on my resident expert, my daughter Lillian, to get her opinion. Lillian is 13 and a regular Mad reader (I confess to throwing out more than a couple of her copies when I thought they were inappropriate). She's also the daughter of two art directors (her mother, Chris Curry, is the illustration editor at The New Yorker), so she has a good graphic sensibility.
I showed Lillian the Mad cover and her first response was "It's so cute! It looks like the instruction booklet for the Lego sets." However, she then said that she liked last issue's Miley Cyrus cover, because "It's funnier and I get it right away."
If a parent likes a Mad cover, does that make it uncool? I'm curious to see how Mad's audience responds to this gentler, more parent-friendly approach, or whether they prefer the cruder (and admittedly funnier) covers.
If this critique has got you thinking about past covers, be sure to visit Doug Gilford's Mad Cover, which is the essential destination for fans of all ages. Gilford has an archive of every Mad cover from 1952, including illustrator credits and in some cases, back cover artwork (the archival covers included in this story are via Gilford's site). And you can see more of Mark Frederickson's illustration work, including a good number of Mad images.