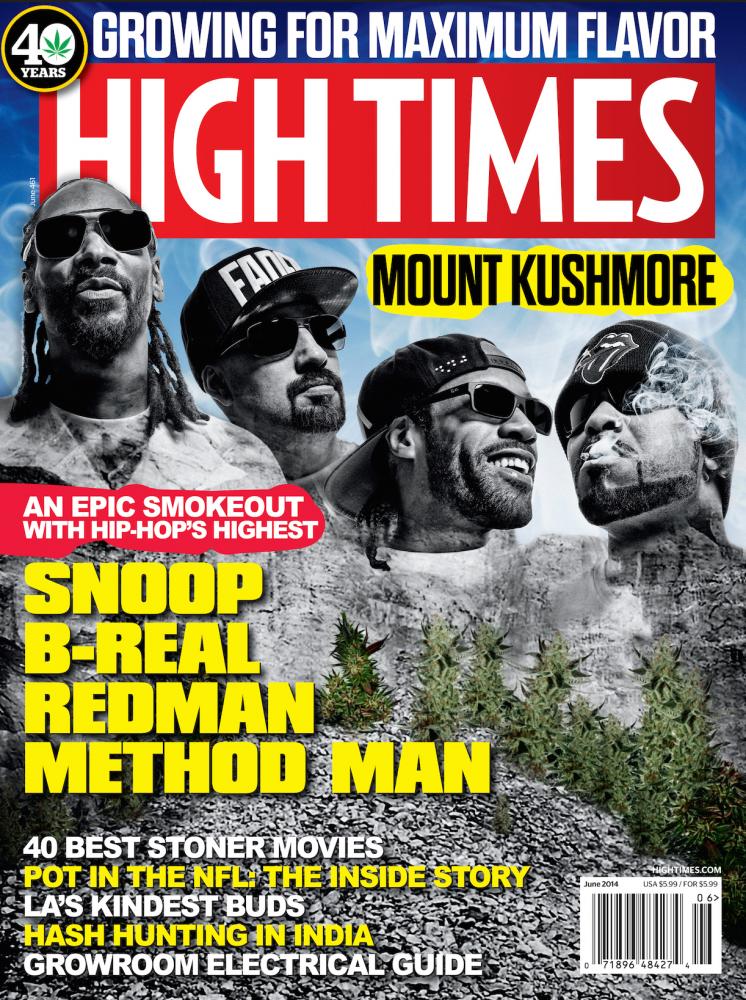 "What were they smoking?" is a common joking criticism used by editors and art directors when referring to badly executed magazine covers. Well, in the case of the June 2014 cover of High Times, we know exactly what they were smoking. But the herb definitely helped with some wonderful creativity, because this is one of my favorite magazine covers of the year. I think a few more magazines could use what High Times is smoking; this cover is powerful, engaging, memorable and just plain fun (and funny).
The "Mount Kushmore" cover of High Times features a photo illustration of four top hip-hop artists, Snoop (Lion these days?), B-Real, Redman, and Method Man, all of whom are well-known weed enthusiasts. For FOLIO: readers who don't fully get the reference of the headline, the Urban Dictionary describes "kush" as "a high-grade strain of marijuana."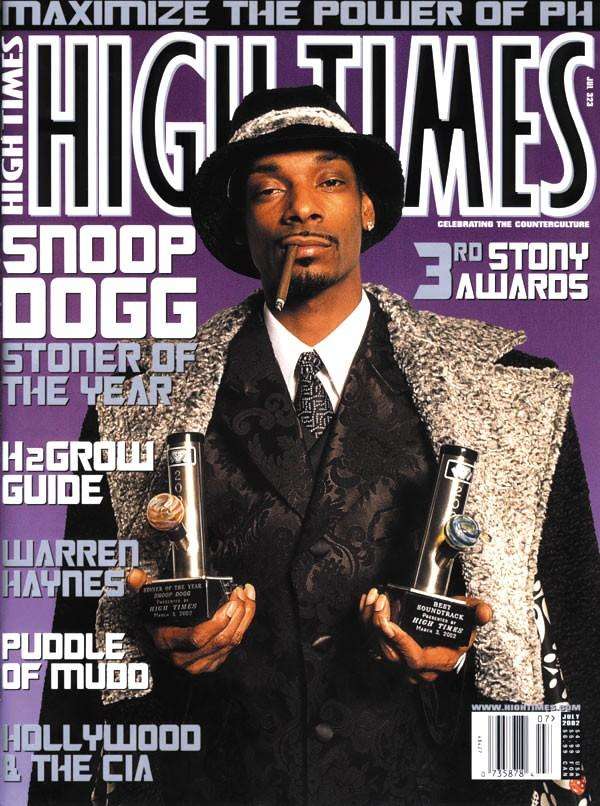 This is a gonzo cover that reminds me of some of the best altweekly newspaper covers, with an image that is very high conceptually, and somewhat funky (in a good way) in execution. But the idea and the passion behind it are what gives this cover such a great buzz and makes it a standout. Editor Chris Simunek explains that the idea originated with Snoop, who has been a regular cover subject–most notably as 2007's "Stoner of the Year." The original idea was to have the four heads carved out of hash. When that didn't work out (for obvious reasons), photographer Mark Mann was called in, along with creative director Bianca Barnhill, who organized the entire session. Additional tweaks to the cover came from art directors Roxanna Allen and Frank Max.
Speaking of Snoop, back in the 1990s I worked as the design director of Vibe. We were all hard at work one afternoon when a buzz went through the office because Snoop had arrived for an interview and was in the upstairs conference room. Within five minutes of his arrival, the sweet sticky smell of the most potent weed imaginable came drifting through the walls and floors. Needles to say, there wasn't any more work done that day (although the interview turned out great!).
This cover of High Times feels like it was crafted by people who love making magazines and who have an intimate connection with their readers . As editor Simunek says, "We definitely enjoyed doing this cover!" It's bright and refreshing, and the image mixes perfectly with the bold cover lines. The cover headlines are all winners: "40 Best Stoner Movies," "Pot in the NFL," and "Growing for Maximum Flavor." It's also a change from the regular High Times covers, which tend to feature beautifully photographed exotic strains of pot or a still life of a bong.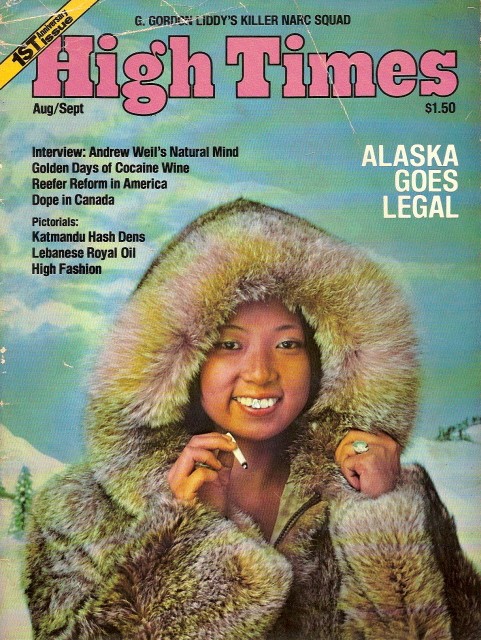 High Times has a rich history of cover design, stretching back to its launch in the early 1970s. Over the years they've had a series of talented art directors, and while the magazine has had its ups and downs, it's overall design has never been stronger than it is under the guidance of art director Frank Max, who has given it a structured, lively format with strong, engaging imagery and, of course, lots of beautiful weed pictorials.
When I was in college in the 70s, my friends and I would get High Times from the local head shop every month and rush home to read the heady (to us) mix of dope, rock 'n' roll, politics and counterculture news. We would scour the Trans High Market drug price quotations every month, hoping to find our little town in the list (it never was) and marveling at what was available for purchase in other locations.
Years later I visited a friend who was working at the High Times office in New York City. After getting through an elaborate multi-lock security system (it was the 80s), I was ushered into a dark, heavily smoke-filled room. This was the office of the legendary High Times typesetter, who banged out endless galleys of type surrounded by piles of the most potent herb I had ever "seen." Perhaps it goes without saying, but I don't remember much else about my visit.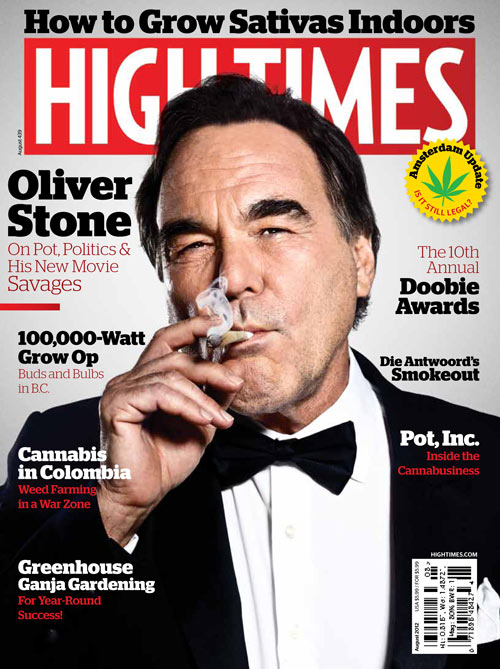 Those days are long gone, though, and High Times today is a much more professional operation. The magazine's ads are booming thanks to medical marijuana and the movement to legalize or decriminalize pot smoking. Celebrities like Oliver Stone have been on the cover, celebrating their sticky love. And the editorial content is a potent and polished blend of service, news and strong opinion.
I was worried that I was being too uncritical about this cover, so I reached out for a second opinion from Dan Zedek, a former High Times art director (in the mid-80s), and now the design director of the Boston Globe. He confirmed my opinion of it: "Two words for this cover: not shy," he said. "It has attitude to spare! It helps that the illustration is a little crude, the type colors a little loud. It's a perfect match for the subject matter: fun, noisy, and a bit bratty. For a magazine about not working hard, this cover works hard in the right ways."
So, I guess the obvious question here is: What was I smoking when I wrote this review? This answer is: nothing, or it wouldn't have been finished! Still, I hope High Times invites me to their next cover shoot.