The latest entry in TV celebrity publishing debuted in early February with the launch of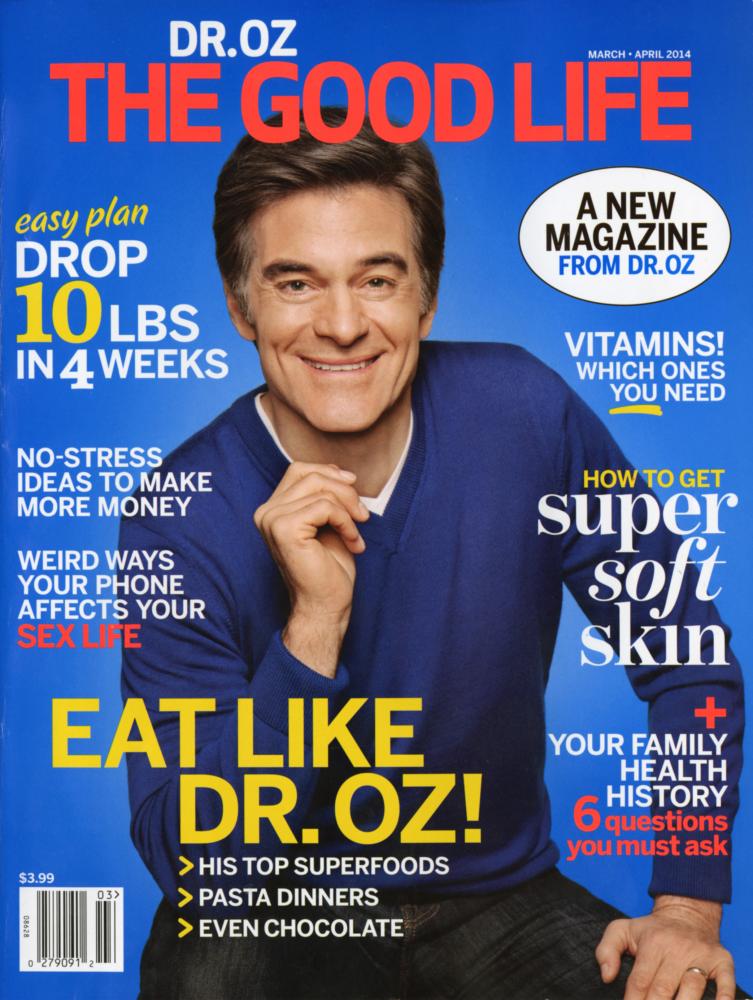 Dr. Oz The Good Life. Dr. Oz is a ubiquitous presence on women's and self-help magazine covers, and has generally been very successful in selling copies on the newsstand. The Good Life's publisher, Hearst, has done very well with previous TV-related magazine launches, including HGTV and Food Network magazines (not to mention Oprah Winfrey's O, The Oprah Magazine), and they assembled a talented edit and design team for this debut issue. However, the March/April cover is very disappointing and is one of the weakest covers of a major magazine launch in recent memory.
When I first saw this cover I actually thought it was a prototype instead of the debut issue. There's a generic look to the cover photograph, a flat, by-the-numbers quality to the headlines, and most importantly, an underdeveloped logo that does nothing to create and build a dynamic brand. The result is a cover that looks more like a low-budget, one-shot newsstand special rather than the exciting debut of a powerful new media entry. Other similar Hearst magazines like HGTV, The Food Network, and O have modern, engaging, energy-packed covers that leap off the newsstand and give a sense of the rich multi-faceted content inside. This cover lacks that sense of excitement.
There's nothing special about the image. It feels like countless other images of Dr. Oz that are used to promote any of his numerous projects. When I worked at O I attended a photo shoot with Dr. Oz and saw how incredibly warm and charismatic he is–both in person and in front of the camera. And while this is certainly one of his more handsome photographs (and I like that they left in a few wrinkles around his eyes!), I don't see much of that magnetic personality coming through. I think it's partly a matter of scale. It might have been nice to see Dr. Oz's face a little bigger so his smile and the twinkle in his eyes could have been more evident.
The cover lines also feel prototype-ish to me. They're generic in the sense that they could appear on any women's magazine. There's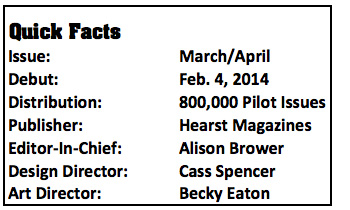 nothing that seems unique to Dr. Oz, or original and exciting. They read more like the dummy headlines that art directors throw on covers when they start designing, waiting for editors to develop perfectly-crafted blurbs that reach out and grab the readers. And most importantly, the cover typography overwhelms the logo.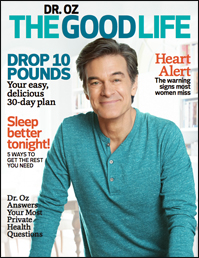 The logo is baffling to me, and is definitely the biggest problem on the cover. I'm confused by the structure of the title. Is it Dr. Oz The Good Life, or The Good Life, with a Dr. Oz kicker? There's nothing distinctive about this logo, and it's lost among the jumble of other type and colors. It almost looks like just another headline on the page instead of the name and brand of the magazine. Compare this logo to HGTV and Food Network (which were based on pre-existing network logos), or to the custom logo design of O, The Oprah Magazine, all of which are unique and instantly recognizable. Interestingly, in the initial cover that was used to promote the magazine in its prototype stages, The Good Life logo was bigger, filling edge to edge, and designed in multiple colors to give it more flavor and character. I like that version much better.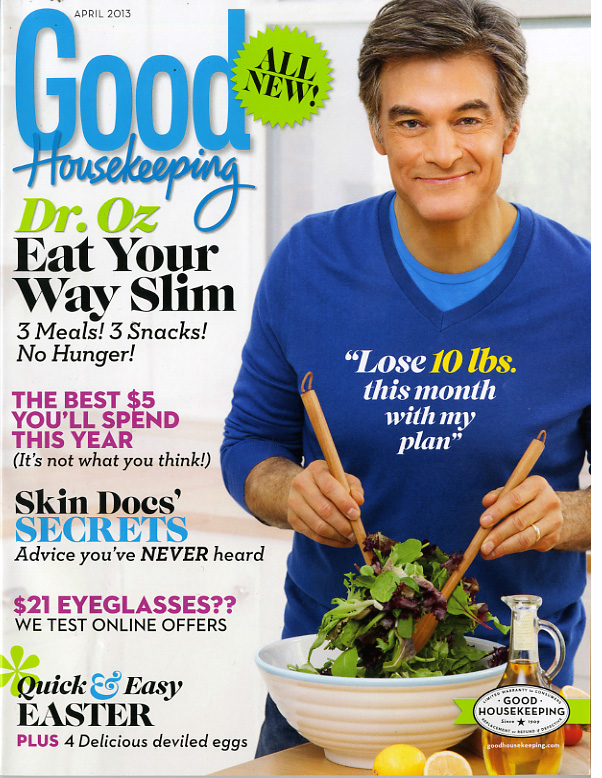 According to recent press reports the launch issue design director and photo editor have left The Good Life, and a new art team is being brought in to reconfigure the magazine's look for the second issue. I'm guessing that Hearst recognized the less-than-stellar results of this first cover and that the next one is going to be much stronger and more memorable. Incidentally, there was a very nice Dr. Oz cover for Hearst's Good Housekeeping published last April. It featured a very warm, fun photograph (Dr. Oz loves those blue sweaters!) and a nifty set of headlines, smartly designed with lots of texture and excitement. I hope the next cover of The Good Life looks as good as that one.