2014 was a continuation of one of what is certainly one of the golden eras of magazine cover design. You only need to spend a few minutes on some of the sites that highlight covers, such as Coverjunkie, NASCAPAS or magCulture, to see the endless array of memorable, imaginative, provocative, finely-tuned design and imagery being produced at every level of the magazine making world. It seemed that every week there were great covers zipping around Twitter, Facebook and Instagram, generating excitement and buzz. Thanks to a talented batch of art directors and photo editors, an increasingly visually savvy set of editors and the fact that many magazines have been freed (not always by choice) from the necessity to sell big numbers on the newsstand, covers this past year were graphically forward and visually engaging. It helps, too, that magazines are increasingly chasing that coveted younger demographic, an audience who demands more instant, sophisticated visual gratification and less of the traditional (boring) design.
This year, rather than producing another Top 10 year-end list, we thought it would be more appropriate to highlight the magazines who created the most significant and memorable covers over the entire year. Plenty of publications created one-hit wonder covers in 2014. Instead, we're honoring those that produced top-notch covers throughout the year, issue after issue, and created graphically powerful brand visions and an ongoing conversations with readers, both on the newsstand and online.
A few words about our methodology: First, because of FOLIO:'s range of coverage, the magazines needed to be based in the U.S. There was plenty of great design in the U.K. and Europe that didn't qualify, unfortunately, for this list. Secondly, we felt that to be eligible a magazine had to publish at least on a monthly schedule (of course "monthly" in these times often means printing 10x a year). There were many wonderful quarterly magazines with great covers in 2014, including 8by8, Lucky Peach and Nautilus, and we salute the energy and creativity of their visual teams. But they were not eligible for this list. Finally, we wanted to pick covers that significantly elevated the profile of their magazines, that made people pay attention, notice them online, and yes, even go out to pick up a copy.
It was a tight race and a tough decision but this year's pick for best overall magazine cover design goes to The New York Times Magazine. Credit to its team; design director Gail Bichler, photography director Kathy Ryan and editor Jake Silverstein. The Times Magazine consistently created sparkling covers that were imaginative and surprising, and produced on a weekly schedule. Although the team hasn't been in place the whole year (Bichler has been doing covers since former design director Arem Duplessis left in January, but Silverstein didn't come onboard until early May), they have already created a series that has redefined the visual voice of the magazine. From the faux punk gig poster style of the August 10 Rand Paul cover to the Abortion By Mail package of August 31 to the classically elegant military justice photograph on the November 30 issue, the magazine has served notice that it's breaking out of its traditional format. This year's covers are imaginative and graphic, mixing stylized alt-weekly techniques with modern illustration and powerful photography. And they look like they're having more fun than anyone in the business (a title held for the past several years by the folks at Bloomberg Businessweek).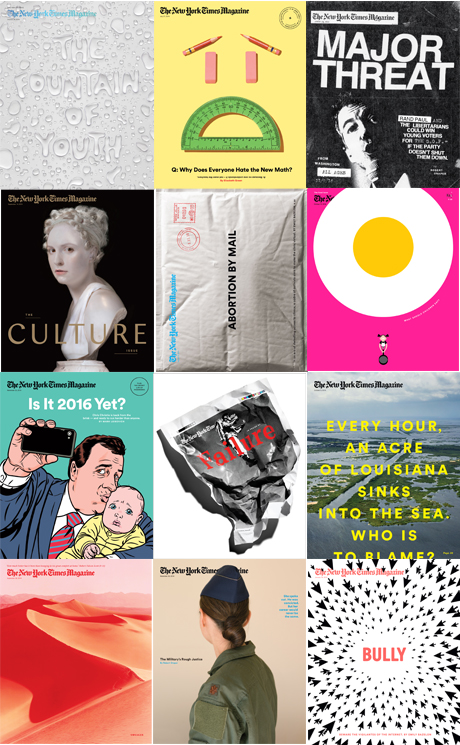 The Times Magazine covers have always been designed at a very high level, among the best in the business. What's new and exciting about the current visual direction is that they've broken out of the traditional, Timesian format of the magazine, which tended towards powerful imagery and restrained typography. Now, on a relentless weekly schedule, the covers are being designed in a completely original way, offering readers a surprise (and treat) every week. It's still early in its genesis, but this first year has delivered much excitement, experimentation, and the evolution of a sharp, intelligent visual voice.
These days, cover design is as much about viral shares and clicks as selling copies (or in the case of the Times Magazine, giving readers a reason to pick up and open the magazine), and the new cover direction is perfectly positioned to take advantage of that. I would say that with the exception of the past few years of Bloomberg Businessweek covers, there's no magazine that has been so consistently creative and forward-thinking in its design, especially on a weekly basis. Since the Times Magazine recently added the very talented Matt Wiley (ex-design director at Condé Nast Traveler) as art director, it's reasonable to assume that 2015 will be another stellar year for the brand.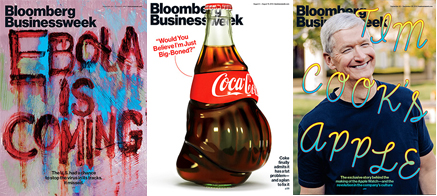 Speaking of Bloomberg Businessweek, they were easily our runner up for the year's best. They also have a new design director, Rob Vargas, who succeeded the much-heralded Richard Turley early in the year and built on the powerful existing visual format while crafting his own aesthetic. Vargas has carved out a distinctive visual path, crafting covers every week, which are a marvel of punchy graphic design, hyper-creative typography and poster-like imagery. The covers are bright and popish, with perhaps a little more thought to directness and commerciality than Turley, who seemed to revel in being a visual provocateur (which was one of the many reasons I loved his work).
Whether it's a fat bottle of Coca-Cola asking "Would You Believe I'm Just Big-Boned?, a photograph of Apple's Tim Cook overlaid with naïve, childlike typography, or an intense, blood-like painted "Ebola Is Coming" headline, these are covers that push and poke and shout and demand attention. They're great, and I'm looking forward to seeing how Vargas and editor Josh Tyrangiel continue to develop them in the coming year.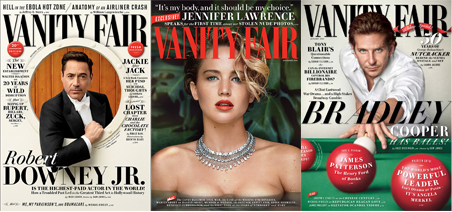 I continue to be awed by the work that Chris Dixon is doing as design director at Vanity Fair, in collaboration with editor Grayden Carter. This year he really established his own vision with the covers, blending a stunning series of engaging and active celebrity portraits with a masterful array of typographic coverline treatments. This is classic magazine art direction and design that reminds me both of sophisticated publications of the 1940s and the covers of Rolling Stone designed by Fred Woodward in the 1990s. There's nobody working today with such a mastery of typography, with its dense layers of information stuffed into every corner, while maintaining a sense of elegance and relaxed sophistication. This is one magazine that still depends on a lot of newsstand sales, so the marvel of Dixon's work is that he mixes commerce with art so brilliantly, creating a cover image that pops off the racks, but still is rich with subtlety and artistry. Just take the latest Vanity Fair cover, featuring Bradley Cooper, and put it into a magazine design hall of fame for its incredible level of detail and polish!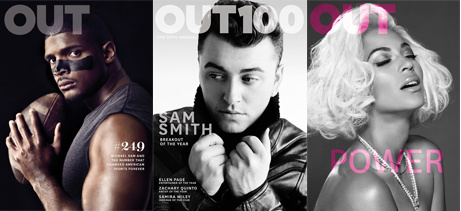 Out magazine also takes inspiration from classic magazine design, but their current cover look owes more to the simple, stylish elegance of fashion magazines from the 1950s designed by Cipe Pineles and Alexei Brodovitch. Creative director David Gray utilizes sparse, sleek portraits of celebrities like Beyonce, Sam Smith, and Michael Sam to great effect, adding very understated and minimal headline typography. These covers reflect much of the clean, minimal design that is so popular right now in the indie publishing scene, especially in Europe and the U.K. Brilliant in their simplicity, stylishness, and graphic confidence, this year's series of Out covers provide a perfect visual branding, and through social media have made a huge impact well beyond the magazine's small circulation. Each cover this year has been a stunning work of art.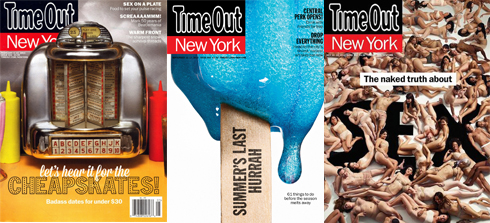 Finally, there's the Little Engine That Could of 2014, Time Out New York, the scrappy NYC weekly that produced an outstanding series of covers on a very limited budget. The new TONY team of art director Chris Deacon and editor Terri White has revitalized the franchise, producing fun, engaging and original covers, an energetic visual branding that seems perfectly in sync with its young, dynamic audience. With a mix of modern illustration and rock 'n' roll graphic treatments that owe as much to U.S. altweeklies as to the U.K. music press, Deacon has created an exciting body of covers that promises much more for the coming year.
There were lots of other great covers produced during 2014. Magazines who did that smartly and consistently included Adweek, Audubon, ESPN, Harvard Business Review, New York, W, and Wired. I can't wait to see what they all do next year.