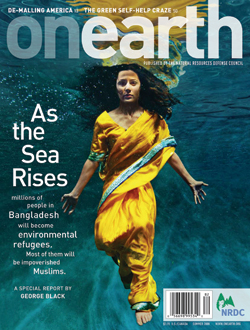 Issue: Summer
Frequency: Quarterly
Launched: 1979
Circ: 175,000
Editor: Douglas Barasch
Publishing Company: The Natural Resources Defense Council
Art Director: Gail Ghezzi
In building its covers each month, OnEarth, whose objective is to build awareness of ecological threats, has to be "extremely aware of not scaring away readers—and potential readers—with the latest grim news of the day," says editor Douglas Barasch. The goal, he says, is to "invite readers in to difficult terrain without softening the message."
The cover story topic for its summer issue is the sea level rise in Bangladesh and its potential consequences for the country and its people. To humanize the disaster and make it less abstract, the OnEarth team decided to represent the threat posed to millions of Bangladeshi through the image of one woman submerged under water. The team was inspired by the 1955 film "Night of the Hunter," according to art director Gail Ghezzi, as it had "an eerily beautiful underwater scene of a drowned woman" that tempted viewers to "look at it over and over again, to freeze the frame."
The team took pains to create a provocative yet not exploitative cover. In a model, they wanted someone who looked like a "real person" from the same part of the world the article described but not just because of her clothing. "We debated the idea of the model wearing a burka but realized the choice could potentially be offensive to Muslims," says Barasch.
Logistically, the photo shoot itself—shot in a pool—was a challenge. "You don't have much control when you are shooting under water," says photo editor Monica Bradley. "We wanted to create a sense of urgency and discomfort but at the same time show the woman as powerful and potentially in control."
Ghezzi says the model looked unnatural and uncomfortable in many of the frames but all they needed was one great shot and they found it. "Her eyes are intense. She is not helpless in her situation—she offers a warning," Ghezzi adds.

DESIGNERS' COMMENTS
"The logo is clean, clear, strong, and impactful. The use of color/transparency instead of a word space is effective here and creates emphasis on the most important word. Powerful photograph, and the yellow/gold color of her garment brings the eye right in. As for the typography, this is the weak link of this cover. The random vertical alignment of the type below the logo greatly reduces readability and asks the reader to work too hard to get through it. In addition, the 'trendy' and overused technique of bouncing point sizes is visually busy and reduces the readability even more."
Ilene Strizver | TheType Studio

"I think it's a solid cover. The color contrast in the photo is great. It's a striking image that quickly communicates its horrifying point. The typography is clean and modern, though I'm not sure the type that begins with 'millions of…' actually benefits from being staggered. However, it does read clearly and communicates the information which is the key to good design."
Jamie Stark | Stark Designs

"I really like the bold yellow color structure against the sea blues, but the cover as a whole lacks interest. There's really no depth from one layer to another to distinguish text vs. image vs. logo, other than the transparency in the flag text at the top. I would have liked to have seen the all-white headline, subhead and byline have more presence. Overall, it gets the message across, but doesn't jump out at the reader."
Anthony Ficke | Creative Director | AB Communications
What do you think? Take the Face Up survey and get the chance to win an iPod Shuffle!