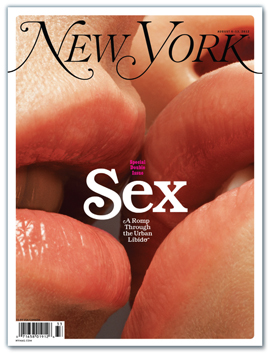 MAGSTATS
Issue: August 6, 2012
Frequency: 42 times per year
Circulation: 400,000
Launched: 1968
Publisher: New York Media, LLC
Design Director: Thomas Alberty
Photography Director: Jody Quon
Editor-in-Chief: Adam Moss
Sex sells, as they say. And in planning a cover for New York's sex issue—a special theme issue that chronicles the "varieties of sexual experience across this most varied and relentlessly inventive of cities"—the design staff had a similar variety of imagery to hone in on for the cover.
Design director Thomas Alberty says part of the issue is dedicated to a photo portfolio of couples kissing, and a staffer in the photography department stumbled on a series of photographs shot by Tim Flach that feature close-ups of kissing lips.
"It was just so perfect," says Alberty. "We had other cover contenders that were images that were commissioned for us, but this one nailed it. It's lips, it's fleshy, it worked."
With the issue closing by the end of the week, the cover had to be decided on quickly, and Alberty says the way the cover art fit right into place so naturally was not par for the course. "The cover was pretty easy, which is a weird case, but we arrived at it pretty quickly. We usually decide on a cover by Wednesday, and we had other options, but this one just seemed hands-down to be the best, no contest."
There was minimal touch-up done to the photo other than some color correction. Cover lines were kept to a minimum—"sex" is a pretty eye-catching word by itself, notes Alberty—and bookman swash was chosen as the font, which harkens back to New York's past design and also played off the subject well. "It's so perfect, it has that swash that's so erotic in this context," says Alberty..

DESIGNER'S COMMENTS
"To quote Austin Powers: 'Sex? Yes, please!' And to this New York cover I say, 'Yes, please!' The cover image does an incredible job of walking the line—provocative and yet not over the top or offensive. The super-close cropping of the image captures a moment of intimacy in a completely unique way. Flesh! At first glance I needed a moment to understand what I was looking at. I love the simplicity of the type, too—no need to say more. That's what makes this a great cover!"
Robert Lesser, Design Director, CFO Publishing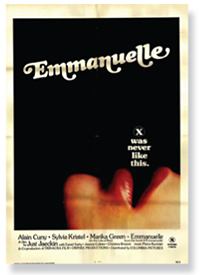 "This is a really smart cover, with a PG image that manages to be provocative, erotic and sexually ambiguous enough that it will appeal to every orientation (as it should). The cover photo manages to create the illusion (and promise) of naked intertwined bodies and forbidden lust without being exploitative or cliched. The retro swash typography calls to mind classic (and tasteful) X-rated movie posters from the 1970s, especially the poster for the first 'Emmanuelle' movie. The white border and rounded corners of the photo enhances the poster feel. It's all perfectly understated, yet still in-your-face enough to jump off the newsstand. There have been way too many bad 'sex issue' covers, but this one stands out for its originality, imagination and flawless execution."
Robert Newman, Creative Consultant, Robert Newman Design (@newmanology)
Have a unique "cover" story? Contact editor Bill Mickey at bmickey@red7media.com.