Face Up: Listen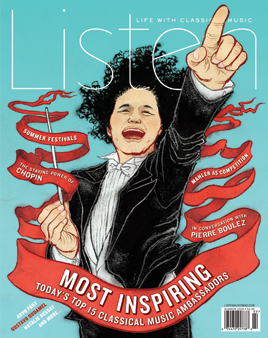 MAGSTATS

Issue: Summer 2010
Frequency: Quarterly
Launched: 2009
Circ: 15,000
Publishing Company: Arkivmusic, LLC
Design Consultant: Five Point Design

The cover story for the Summer 2010 issue of Listen: Life With Classical Music, which profiled the top 15 classical music ambassadors, was to be one that would celebrate the masterminds behind the genre and offer readers inspiring stories about those chosen.

Alissa Levine, principal of graphic design firm Point Five Design, felt that illustration would be the best way to portray that sense of inspiration. "I chose to work with Yuko Shimizu because her illustrations are very graphic and human," she says. "Her work offers a sense of pageantry with the use ribbons and large gestures."

Levine wanted the colors and the ribbons, which were inspired by old French cigar packaging, to be "bold and dynamic" and to have the impression that it was announcing something big.

It was a unified decision to choose Los Angles Philharmonic conductor Gustavo Dudamel as the central image—he's a 28-year-old musical prodigy with a very distinctive look and style. "When he conducts, he's very dramatic and physical," Levine says. "His hair is his signature—it's crazy and curly, and if you're a classical music aficionado, you would know right away that the illustration is of him."

This cover also marks the first time that Listen would be sold on the newsstand. The magazine staff was a bit skeptical about using the illustration for fear that passers-by wouldn't be able to recognize Dudamel. Levine and her staff, however, felt the opposite. "We thought the cover was engaging enough that people might pick it up just to see who it was," she says.

The theme of unconventionality also carries through to the magazine's logo. While most magazines use thick and bold fonts for their logos, Listen's logo uses a thinner and lighter one. "Now is the time in print when you can take more risks," Levine says. "By using a thin font, we can have the logo be large, commanding and lyrical. The font we chose is very refined and speaks to the content of the magazine. We wanted something that was fluid and gentle, but also commands a presence."


DESIGNER'S COMMENTS

"I appreciate the effort it took to put this cover together—it is a professional product. I would have done it differently. The choice of illustration could be stronger and feature a more dynamic, unique 'signature' image. I believe the current image is unexceptional. The sans serif type treatment within the banner reminds me of advertisements or political cartoons from the 19th century, which could work given its time period connection to classical music. The color palette would also change: I wasn't in love with those colors anyway, unless maybe the readership is younger. The masthead looks like it can be particularly challenging due to the thin font, but then again, all mastheads can be challenging. Overall, the cover is whimsical, which is fine, but I think it is not on par with the classical music it is trying to communicate."

Thoralf Tollefsen, Art Director, Squarehead Graphics

"This cover makes great use of illustration. It's compelling and engages the reader, and there's a nice integration of the nameplate and coverlines with the illustration. What would make this cover even stronger is to make the coverlines work even better as a part of the illustration. This could be accomplished by have the typehand done and working more realistically with the curves and perspective of the ribbon. Overall, the energy that this illustration brings to the cover makes it a winner."

Debra Bates-Schrott, President, Bates Creative Group LLC





Have a unique "cover" story? Contact executive editor
Matt Kinsman at mkinsman@red7media.com.
Meet the Author
---