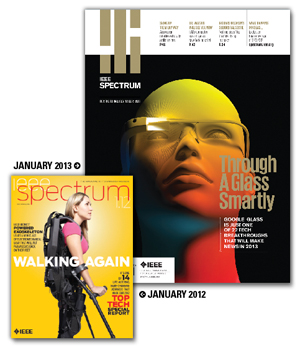 MAGSTATS
Issue: January 2013
Frequency: Monthly
Circulation: 400,000 worldwide
Launched: 1964
Publishing Company: IEEE
Senior Art Director: Mark Montgomery
Editor: Susan Hassler
"I've been here for about 15 years and we've never done a redesign of everything at the same time," says Mark Montgomery, senior art director for IEEE Spectrum. "We wanted to rethink the brand and how the brand could be used for other things down the road, which got the ball rolling."
Every year, the theme of the January issue focuses on topic areas that readers should be paying attention to for the following year that will have an impact for the technology community. By introducing the redesigned publication with that issue, IEEE was introducing new technology and its new self.
"The (cover image of the) Google Glasses was probably one of the sexiest thing that we had, and it's also a tangible thing," he says. "Google was being very cagey about the glasses with everyone. The cover is designed to focus in on one of our stories and illustrate it. We hired Eddie Guy—he's a great illustrator that's done everything from Rolling Stone to Esquire. We had five interior stories and we wanted to objectify them, which is hard to do because a lot of them were news stories."
The redesign was also executed with an eye on the changing demographics of not only the larger media marketplace but also for the association itself.
"Companies like IEEE are under a lot of threat from its core membership getting older," says Montgomery. "We need to attract younger readers. The push was to get a look that was bold and appeal to a younger audience—my feeling was that the brand had to be something that could resonate with younger engineers because they're the future."

DESIGNER'S COMMENTS
"At first glance I love the new cover look of IEEE Spectrum. It's modern, sleek and sophisticated. The white bar at the top for secondary cover lines is strong, and the typographic choices are smart, feeling very contemporary but also serious and classic.  

Here's what I don't like: The logo, those three vertical slabs at the top left of the cover. It's distinctive, but it doesn't seem to relate to anything that I can see, certainly not part of the IEEE organizational logo. In addition, the IEEE Spectrum type underneath seems divorced from the logo. There's no sense of the two pieces being integrated in any way.

Branding for a publication is more important than ever, and it's hard for me to figure out how this is going to be extended across platforms and used to build a sense of identity with the IEEE community. I would love to be proved wrong, because the new logo is strikingly graphic, but it's really senseless to me, a big misstep in an otherwise brilliant re-imagination."

Robert Newman, Independent Design Consultant


"I received two IEEE Spectrum covers in my inbox, downloaded the PDFs, and had a look. I needed to check the dates on each to see which was the redesign—not a good start.

The old logo features a thin, san serif font, which seems noncommittal, so I do like the bold graphic that replaces it. But I'm not a technology insider, and I had a hard time figuring out what the lines represented.

My other issue: The b-heads are too small and do not engage me, which is a pity because the stories are really interesting.

The new design has a more serious look overall, more tech journal, which may play to the audience better than the old.

I'd like to see a more aggressive approach to the cover type, a bit more like the original cover design.

You have great content; make sure your audience sees it!"

Robert Lesser, Design Director, CFO Publishing
Have a unique "cover" story? Contact associate editor T.J. Raphael at traphael@red7media.com.