Face Up: IDD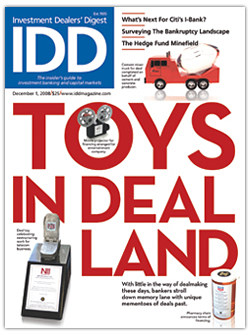 Issue: December 2008
Frequency: Weekly
Launched: 1935
Circ: 2,000/week
Editor: Tom Granahan
Publishing Company: SourceMedia
Art Director: Monica Pizzi
Tombstones. That's what Investment Dealer's Digest had in mind when constructing its December 2008 cover, "Toys in Deal Land." With little in the way of dealmaking for the past few months, IDD decided that its cover story should highlight past deals through the commemorative tombstones, or "toys," associated with each deal.
 While tombstones were a significant symbol of the banking (and publishing) world in the past months, the publication "wanted something light and upbeat" for their end-of-year issue. In particular, this meant not "emphasizing one [image] more than another," says Monica Pizzi, art director for SourceMedia's IDD and Insurance Networking News. To effectively achieve this look, Pizzi downsized each image and added a short, one-sentence caption.
"I played with different images, and was trying to get as much on the page as possible—it started to get a bit complicated," she says. When a colleague suggested that Pizzi enlarge the text and downsize the images, the cover finally came together. While the tight turnaround of this weekly almost never lends itself to photo shoots, this especially last minute cover—executed in only a few hours—was a challenge, since Pizzi attempted to edit each toy's shadow to appear as though the images all came from one source. "The companies sent us some [images], the manufacturers sent some—we even had our own managing editor [who wrote the cover story] photographing some!" Pizzi notes that the multiple smaller images with the coverline as the centerpiece is not only a divergence from industry standard, but also from the typical IDD cover. "This is a nice departure from one illustrator doing a concept," she says. "We wanted it to be photo-driven and clean. Our covers have never been this graphic."
Red was the chosen coverline color, as it acted as the common denominator between the four featured toys, found in the cement mixer's body color, the text on the movie projector, the logo on telecom business cell phone, and the 'Rite Aid' label on the pill bottle.

DESIGNERS' COMMENTS
"IDD's cover imagery would have benefited greatly from using one strong image versus its four small vignettes. The bland imagery is further weakened by poorly executed silhouettes and reflections. Also, the typography lacks sophistication, as it has uneven kerning in the large letter-forms [red cover line], too much emphasis on symmetry and poor usage of white space. IDD's logo appears antiquated with its "Established" dateline and extended tag line. The large size of the publication's name (in full) over its acronym adds even more clutter to the blue logo box. With a lack of verbal and visual enthusiasm, IDD's cover fails to engage its readership. "

Mark Montgomery | Senior Art Director | IEEE Spectrum
"First, let me say that I am a fan of type covers. They can have amazing impact if the cover line is intriguing and the graphic presentation is thoughtful. My immediate impression of this cover is that it was fresh, and I like the way that the images interact with the type (except for the cement mixer, which seems like it's floating). However, after reading the coverline, I came to a different conclusion. With a main headline of 'Toys in Deal Land,' and a deck that mentions a "stroll down memory lane," why not make this headline become the actual environment which it describes? I think this cover was a missed opportunity to make 'Deal Land' feel like a real place."

Kelly McMurray | Creative Director | 2communique
Have a unique "cover" story? Contact FOLIO: Associate Editor Vanessa Voltolina.
Meet the Author
---