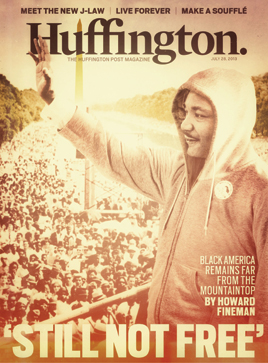 MAGSTATS
Issue: July 28, 2013
Frequency: Weekly
Launched: June 2012
Circ: 600,000 (Free iPad)
Editor: John Montorio
Design: Josh Klenert
Publishing Company: The Huffington Post
The summer was rife with provocative newsstand covers. Bloomberg Businessweek, The New Yorker, Ebony and, of course, Rolling Stone all made headlines. But the trend wasn't on paper alone. Huffington, a weekly iPad-exclusive magazine published by Huffington Post, made a bold statement of its own.
The July 28 issue features a rendering of Martin Luther King Jr. delivering his "I Have a Dream Speech" while wearing a hooded sweatshirt—a symbolic image now synonymous with Trayvon Martin.
The cover was developed with Howard Fineman's inside feature in mind. "From the get-go this story [Fineman's "Still Not Free"] was about the connection between the 50th anniversary of the March on Washington and tying it to the wake of the Trayvon Martin shooting and verdict. Both have strong iconic imagery so it came together quickly." says Josh Klenert, vice president, design and UX.
Poster Format in Digital
Klenert says that it is essential to create poster-like images to capture attention in the digital space. "In any medium you're fighting for attention. While we're not fighting for attention on an analog newsstand, we need to have a strong image that shows up in the app store and as an icon on somebody's desktop. We have to boil down our covers so that they work as thumbnails and as full-size covers," he says.
Still, getting noticed is not always a good thing, and Huffington's editor, John Montorio, admits there were early conversations in the production process about whether the cover would be tasteful or not. "We're playing with an incredible icon in American History, and we didn't want to do anything that was disrespectful," Montorio says.

DESIGNER'S COMMENTS
"My first impression of the Huffington cover was its immediacy, cleverness and its seamless production. A few minutes later, I developed second thoughts about its concept. Mixing an iconic metaphor (the hoodie—which itself has polarizing interpretations depending on one's background) with a historic photo of one of the greatest civil-rights leaders of our time feels like an awkward mash-up and an easy way out of a tough design challenge. Implying Trayvon Martin is on the same level as or is similar to Martin Luther King Jr. is a stretch and one I suspect most readers will disagree with."

"That said, the cover does succeed in grabbing the readers' attention; its overall art direction and photo-illustration is tight and well executed."

"It would have been prudent to remove the three rooflines considering the controversial cover. Having a roofline of "Live Forever" seems a bit insensitive when one considers that both men symbolized on the cover died young and violently."
Mark Montgomery, Senior Art Director, IEEE Spectrum magazine
"I don't know what the Huffington's budget is but I would think they'd have the money to create a new image (photo or illustration). Instead they created a concept they could not photograph, since both subjects (Martin Luther King, Jr. and Trayvon Martin) are deceased. But it is a memorable cover. They've still created something new and unique to their brand."

"I'm distracted by the slugs and I wish they weren't there. Somehow "Meet the New J-Law," "Live Forever" and especially "Make a Soufflé" don't seem to work with the very powerful cover story slug "Still Not Free." If they were going for max impact they should have left the other text off the cover, especially since it's a digital magazine."
Amy Wolff, Photo Editor, PDN
Have a unique "cover" story? Contact associate editor Casey Welton at cwelton@accessintel.com