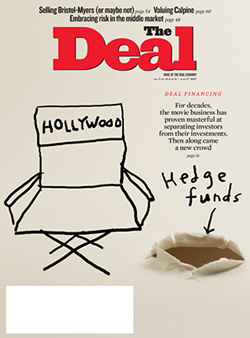 This Month: The Deal
Issue: June 11-17, 2007
Frequency: Weekly
Launched: November 2002
Circulation: 50,000
Editor: Robert Teitelman
Publisher: The Deal LLC
Art Director: Larry Gendron
Business and finance magazine The Deal needed an impactful image to convey its cover feature "New Cast, Old Script," a story investigating the investment performance of hedge fund player Relativity Media's two funds aimed at film financing. Art director Larry Gendron hired illustrator Serge Bloch to come up with a concept.
Gendron says he wanted the cover to express the relationship between the film business and its current high-profile backers in a simple way that would oppose the highly-visual, action packed world of the movies and film business.
"I knew he would deliver a simple and strong image," he says. "Serge came up with the concept and I provided the direction to make it monochromatic and involve texture, hence the use of fabric in the background."
Bloch's illustration of a director's chair—a recognized symbol of Hollywood leadership—represents the movie studios, while the hole torn in fabric represents the hedge fund's position as revealed in the article.
"I knew it needed to be clean and simple," says Gendron. "We always consider our audience of highly sophisticated, senior-level corporate executives, institution investors and financial advisors. They can grasp a concept quickly."
"This is one of those rare covers that I like even though I'm not sure that I understand it. I like the juxtaposition of the photo with the crude illustration and the limited color range and retro feel. I like the play of the bold beefy logo and the whispy image. However, I have no idea what the rip is supposed to say about hedge funds, and I'm not sure I would read this article without a bit more hint about what has changed. It's a long deck for a cover, and it's not saying much about the 'new crowd' except that they exist."
—Jandos Rothstein, Governing Magazine
"The hand drawn sketch catches my attention. However, the headline and deck suffer from some disconnect. I am left wondering if this is poor execution of a good concept, or good execution of a poor concept."
—-Steve Dixon, Lebhar Friedman's Retail Group
"A perfect example of how to keep it simple yet effective. Using the off-white paper background as both a sketch and a photo that literally tears its flat surface into a three-dimensional image is a neat idea. This concept succeeds because the paper is allowed to be the dominant element by subduing the coverlines and color palette."
—Bryan Canniff, Bryan Canniff Designs