Face Up: CFO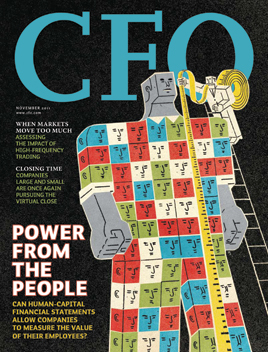 MAGSTATS
Issue: November 2011
Frequency: 10 issues per year
Launched: 1985
Circ: 400,000
Publisher: CFO Publishing
Art Director: Robert Lesser
Editor-in-Chief: Scott Leibs
In the business world (publishing industry included), people behind the brands are frequently overlooked; the success or failure of a company is often too simply defined by earning reports and bottom lines. As CFO's art director Robert Lesser says, "For many years companies have claimed that employees are their most important asset. If so, why don't they measure and report on them the way they do the actual money they make? This was the starting point for our cover concept."
Lesser brought illustrator Dave Plunkert onboard to visually flesh out this idea for CFO's November cover. "Dave and I spoke about the idea of creating a building or factory out of employees and showing some way of measuring them," says Lesser. "He wanted to represent the 'company' as a figure, with all of the employees integrated in the torso."
Plunkert believes a simple approach to cover art proves to be more successful when compared to a concept delivered through a diluted or abstract mode. "An illustration should make sense to the reader. Cover art needs to not only have impact but be decipherable."
Lesser chose a "blocky and simple" font to keep reader focal point on the illustration. Plunkert maintained the challenge in this cover "became fitting all of the various components of the art (large figure, small figure, heads, measuring tape, ladder) onto the allotted cover space without sacrificing necessary details."
Headline "Power from the People" also influenced Lesser's choice of illustrator. According to Lesser, Plunkert would be able to deliver "a bit of that 1930s Gustav Klutsis, Russian poster feel".

DESIGNER'S COMMENTS
"Oh boy, is there ever a disconnect between current events and the lead feature of this issue! That said…

It is always wonderful, and very refreshing, to see conceptual illustration make its way onto the cover of a magazine. I know there's the feeling in some camps that illustration doesn't move issues, but when everyone else zigs, etc, etc.

Particularly crucial to this equation is lovely art by the talented David Plunkert. His work feels very natural, and conceptually appropriate in this context, and really helps to sell the cover line.

I'm slightly surprised to see the lead feature so low on the cover, but from a practical perspective, it seems wise to let the illustration do the heavy lifting. There's a small missed opportunity in the type to resonate with the illustration; a reversal of the stroke and fill of the letters would go far to marry headline and illustration. Not that I condone stroked letters, but I think in this case it might have added a little stylistic value. Finally, the type alignment feels a bit fussy, which for me feels like the type being unable to get out of its own way."

Ben King, Art Director, Print Magazine

"The cover of CFO's November Issue is both visually arresting and subtly clever! The illustration is what draws you in, and clearly captures the main cover line. It is a very smart use of Constructivism.

This was an artistic philosophy that originated in Russia beginning in 1919. The movement often used art as a practice for social purposes, which is mirrored here, by so successfully supporting the subject of the article itself.

The typography is bold yet simple, also a characteristic of the era. The only thing that steps away from this direction is the use of the serif type in the secondary cover lines. This aside, if you quadrupled the size of this cover, it would easily fit in with Russian posters of the time."
Gregory Monfries, Creative Director, Essence Magazine

Have a unique "cover" story? Contact associate editor Stefanie Botelho at sbotelho@red7media.com.
Meet the Author
---