Face Up: Boston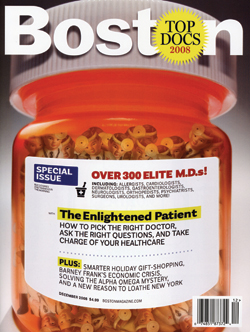 Issue: December 2008
Frequency: Monthly
Launched: 1962
Circ: 108,000/month
Editor: James Burnett
Publishing Company: Metrocorp Holdings, Inc.
Art Director: Patrick Mitchell
According to newsstand consultants, a cover featuring "Top Docs" is almost always a slam dunk for any city or regional publication. "There is very little that you can do to screw it [sales] up," says Boston's art director Patrick Mitchell. It was because of this sales confidence that after sifting through a plethora of other regional "Top Docs" covers, Mitchell decided that the first rule in creating Boston's December cover would be to try to do something original with "Top Docs." Cue giant prescription bottle.
Although prescription bottles have been done before, Mitchell is a big proponent of creating a cover that inspires readers to see something new upon second, third or fourth look that they hadn't noticed originally. He cites the little plastic doctor "pills" as one of these elements, with "shading to make them look 3D—like you could actually shake the bottle and hear them rattling around."
One element that Mitchell may not have minded if readers missed the first, second or 10th time is Boston's "Photoshop magic" performed on the prescription bottle itself. "There are actually no bottles the shape of our magazine cover," says Mitchell. After an unsuccessful trip to CVS and soliciting the entire Boston staff for different-shaped bottles from home, Mitchell finally found a winner. The only problem—it was still too tall for the cover. To remedy this, the art team shortened the bottle by removing a section from the middle and reconstructing the label.
When asked about cover lines, Mitchell says that they "had to be incorporated onto the prescription bottle label. When I do parody covers, I really like to take it all the way." While bottom-half cover lines may have presented a problem for some city magazines, Boston has a full display, allowing them to take some liberties with otherwise strict newsstand guidelines.
Boston's December issue marks its last before the massive 2009 redesign, which Mitchell hopes will separate it from the pack of city magazines.
DESIGNERS' COMMENTS
"This cover is a very good concept that falls victim to mediocre execution, resulting in a clever presentation marred by some questionable design choices. The prescription label is too crowded, and the Top Docs sun graphic doesn't work in replacing the 'o.' It also distracts from the well-crafted yellow highlighter effect on the label. It's a shame because with a little more restraint, Boston could have had a great cover."

Jared Wade | Editor | Risk Management
"Why would they stray from the opportunity to feature a local 'elite' doctor instead to portray art that looks like it belongs on the cover of Time? The bottle is very well done, especially the text shadowing, the color scheme and the detailing. The label's headlines, especially 'Buy 2 Copies…,' are brilliantly executed. Fundamentally, though, this cover misses the opportunity. Is it cheezy to put the doctor on the cover? Yup. But more than ever, isn't it appropriate to revisit what people like about city magazines, starting with the cover?"
Gregory Morey | Publisher | Florida Designers Review
"This is a fresh approach to what can be a very boring annual listing. (Can't you hear the sales team asking for another stock photo of a stethoscope?) The faux label sparks interest, but is hard to read. Moving the second deck off of the label may have helped with readability and impact. Also, the Photoshop work needs a little refinement (tighter replication in the 'pills,' a more subtle masthead shadow). A little polish would have made this good cover great!"
Rhana Castle l Art Director | Vance Publishing
Have a unique "cover" story? Contact FOLIO: Associate Editor Vanessa Voltolina.
Meet the Author
---