Face Up: Billboard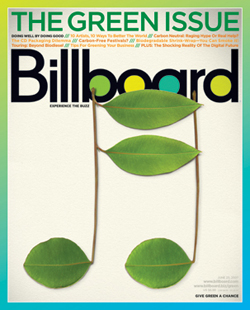 This Month: Billboard
Issue: June 23, 2007
Frequency: Weekly
Launched: November 1, 1894
Circulation: 23,000
Editor: Tamara Conniff
Publisher: Nielsen Business Media
Creative Director: Josh Klenert
For its special "Green" issue, Billboard creative director Josh Klenert wanted to create a cover that would essentially be a poster for the music industry's strong environmental initiative. "I wanted the artwork to be boiled down and clearly convey 'Music Goes Green' without any words," says Klenert.
Klenert hired design agency National Forest to create the artwork for the cover, which reflects a trend of simplicity in music posters, says Klenert. Typical Billboard covers tend to be celebrity-focused (see inserts) with multiple cover lines and entry points. For this issue, Klenert pushed for smaller cover lines located above the logo. "I pushed for the final design with all the cover lines above the logo, which was a dramatic departure from our normal style," he says. "My feeling was that if we were going to go for it, we might as well go all the way."
Klenert also eliminated the four signature dots—red, yellow, green and blue fills in the Billboard logo lettering—and replaced them with different values of green. "We never change those colors," says Klenert. "This cover provided a smart opportunity to mess with them a little bit.
"I LOVE this cover. The graphic twist on the musical note cliché is deceptively simple and perfectly executed: Exactly right for the Billboard audience. The subtle touches of the drop shadows and gradations show that a masterful hand is at work here."
—Ina Saltz, Saltz Design
"My first reaction to Billboard's 'green' issue was, Music and the environment…an entire issue? The simple note conveys the message. This is a unique approach that avoids being a cliché to a bandwagon topic. What I find most compelling about the cover is the texture of the leaves and the background. However I find the green to blue gradient on the border to be more distracting than helpful. I would have liked a bolder color for the cover lines."
—Steve Dixon, Lebhar Friedman's Retail Group
"I wish the hierarchy was a little different. The story headlines are very catchy, but the block of small text does not do them justice. They would be more eye catching if they had some space around them, perhaps along the left side of the cover."
—Robert Siel, Sumner Communications
Meet the Author
---