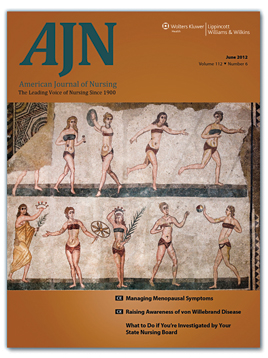 MAGSTATS
Issue: June 2012
Frequency: Monthly
Circulation: 103,000
Launched: October 1900
Publisher: Wolters Kluwer Health/Lippincott Williams & Wilkins
Art Director: Monica Dyba
Editor-in-Chief: Maureen "Shawn" Kennedy, MA, RN
Women's health is a subject treated extensively in all kinds of publications—including, of course, magazines dedicated wholly to that very theme. So when the American Journal of Nursing, a 112-year old title for nursing professionals, decided to dedicate its June 2012 issue to that topic, art director Monica Dyba says, visually, they "wanted something a little bit out of the ordinary."
The journal's designers sifted through a number of images before selecting their choice: A mosaic from the Roman Villa del Casale, a site in Sicily that holds a vast collection of such artwork. This particular piece, formally titled the "Chamber of the Ten Maidens," is informally referred to as "Bikini Girls," as it displays ten women in two-piece garments throwing discus, lifting weights, tossing a ball and engaging in other athletic activity.
Despite its somewhat striking modern appearance, the artwork is in fact from the fourth century, which is something that attracted Dyba and freelance art director Kathleen Giarrano to the image in the first place. Also remarkable, they add, is the fact that the cost, in the ancient world, to create such a mosaic was so high that the Romans must have felt exercise was of great importance to showcase.
The color for the masthead of this issue was chosen from a small part of the image—a bluish top worn by a few of the featured women—while the background hue was picked as a compliment to that and the image as a whole.

DESIGNER'S COMMENTS
"This cover shows a photo of a 4th Century Roman mosaic that depicts women in what appears to be an athletic competition. The question is: How does running, lifting weights and throwing a discus relate to either nursing or the cover lines? There is nothing that ties the image together with the subject matter. One can only speculate that the message is that exercise has been used for centuries to help women manage menopause. On the other hand, do the athletes in the artwork really represent post-menopausal women? For this cover to work, we need a point of reference. In this case, we're left guessing."
Greg Sandler, Publisher, Commercial News USA
"I often see b-to-b cover treatments that rely on this kind of formula: Logo, image in the center, and a couple of B-heads. I think where I get tripped up on this cover is the image. Actually I like it very much on its own, mostly because it implies a strong narrative. But there's the problem: Which story is this image tied to? The story about "Managing Menopausal Symptoms," "Raising Awareness of von Willebrand Disease," or "What to Do if You're Investigated by Your State Nursing Board"? Not quite sure; if I had to pick one it would be "Managing Menopausal Symptoms," although I'm not really clear as to the connection. The brown color bands seem to overwhelm the delicate image as well. I think white would have been a better choice."
Robert Lesser, Design/Art Director, CFO Publishing
"I love this cover. I have no idea what the image is supposed to be saying, but I think it's very cool and arresting. This is a classic magazine look that seems like it's been plucked straight out of 1965, with all the strengths of covers of that period: Simple typography, smart imagery, bold color, and understated design. I could quibble with the logo color (and wish that it could be slightly redrawn and tightened up), but overall I wouldn't change a thing here. Other journals and b-to-b publications could take a lesson from AJN and ditch their slick, "engaging" modern design and go for a more elegant, classic approach."
Robert Newman, creative director of Reader's Digest (@newmanology)
Have a unique "cover" story? Contact editor Bill Mickey at bmickey@red7media.com.