Each month, Folio: selects a unique and engaging cover and asks industry designers to weigh in and tell us what they think. Whether it's a consumer, B2B, regional or association title, covers are the first point of entry for readers, and can determine whether or not someone chooses to open the book. Of course, some are (subjectively) better than others.
There were no shortage of arresting covers this year-some in the mainstream, and some that flew under the radar. We asked a handful of designers to pick their favorites from 2014 and share what made them great.
…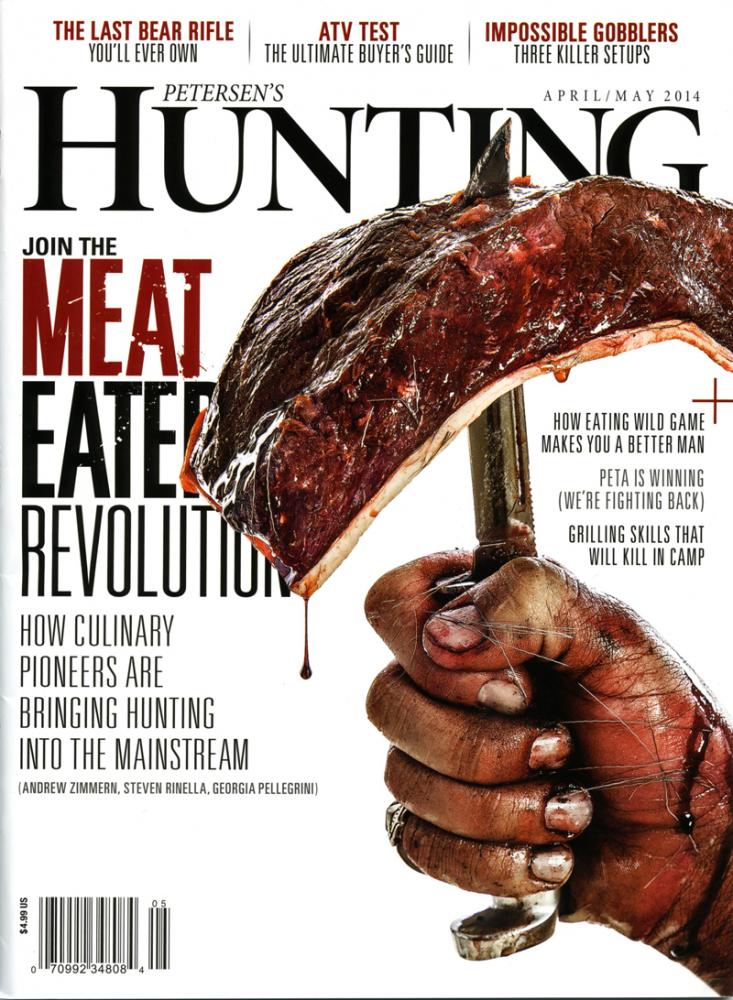 Petersen's Hunting
Issue: Apr./May
Circulation: 208,000
Art Director: Tim Neher
Petersen's Hunting's April/May cover may not be the timeliest, nor the best executed cover this year, but it is an outstanding case study in how to get a reader's attention.
It reminds me of something you might have seen "back in the day" on National Lampoon. It's brash and unapologetic in its graphic approach. But it also has a sense of humor, and it makes a relevant appeal to its own readers and a growing segment of farm-to-table and eat-what-you-kill hipster foodies. The headline and coverlines are nicely organized and presented cleanly, which contrasts extremely well with the messy, almost-grotesque photograph.
This is a total departure from so many hunting and outdoor magazines that typically put an animal or weapon on the cover. Don't get me wrong, many of those magazines do fantastic creative work and they have their audiences dialed in, but what Petersen's does here is invites a new reader to look inside. I don't hunt or fish but if I were at a newsstand or in a checkout line and saw this cover I'd not only want to crack it open, I might actually buy it. To me, that says this cover is exceptional.
– Caysey Welton/Senior editor/Folio:
…
Variety
Issue: Jun. 3
Circulation: 33,000
Creative Director: Chris Mihal
Variety nails this take on a double-exposed portrait; not once but three times for this issue (and trust me, the others are just as good).
The Alison Williams cover is just insanely captivating. I'm perplexed at how this thing came together. I don't know if they shot for this composition or just stumbled upon it after, but I find myself hoping for the latter.
The colors calm as Williams' eye draws you into (and through) the tight portraiture. The arm somehow adds defining, organic structure to the face without being distracting, guiding you out and around to explore the whole image. The dress against her cheek, the gentle touch between hand and earring. The play between the two images compels you to scan the entire cover, taking in the details slowly and carefully, never fully landing on one or the other.
The composition is so strong that there's no need to embellish with elaborate type, and the eye finds its way to the simple type as a respite from the surprisingly complex image. The whole piece feels like it's bringing an incredibly fresh, impressionistic take to celebrity covers, and I only hope we see more in this spirit.
– Ivylise Simones/Creative Director/Mother Jones
…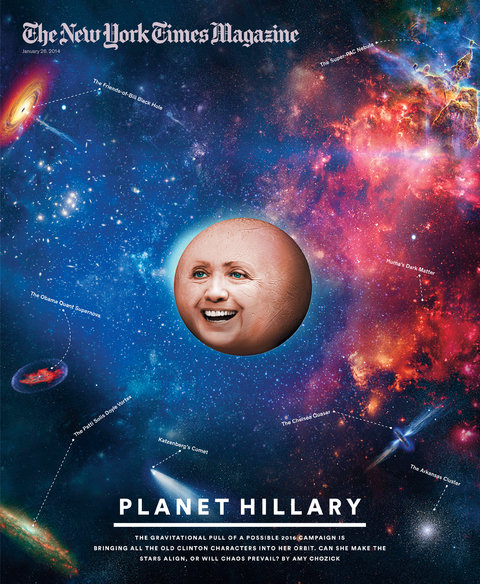 The New York Times Magazine
Issue: Jan. 26
Circulation: 1,623,697
Design Director: Gail Bichler (current)
Sitting in a bar one night with a large group, I had an experience with a magazine that I've never had before. People (none of them in the business) began passing around and looking at a magazine cover on their phones. The overall reaction: laughter, disbelief, and the basic sentiment of, "how did this happen?"
When I saw "Planet Hillary," it immediately made me think, "Wow, this is what happens when good ideas don't get thrown out." you can easily imagine the debate in the office that would have happened, and you can feel the risk involved, so I applaud the editors and designers for going along with it.
What really lands the cover's punch is the flesh color of the planet and the weird, unsettling effect that it creates. It reminds me of the type of image that could have come together quickly as a rough and made the designer say, "Wow, wouldn't it be amazing if we just left it like this?"
It's insensitive, maybe, perhaps a tad juvenile, but there's such fun in it that's impossible not to love. This is the type of idea that almost always goes to the trash bin, and yet here it is in all its weirdness, with groups of people staring at it and talking about it.
– Jack Dylan/Creative Director/Corporate Knights
…
Modern Farmer
Issue: Fall
Circulation: 100,000
Art Director: Sarah Gephart
I first encountered Modern Farmer earlier this year as a judge for the design portion of the annual ASME awards. I was immediately struck by its unique look: a contemporary version of a classic magazine cover approach. The single large image, with a paper-white top banner and wonderfully simple and elegant logo, are reminiscent of magazine design of the fifties and sixties. It looked so fresh and new, yet somehow comforting and familiar.
Upon further examination however, one realizes that this is not merely a clever nod to traditional magazine design, but more a brilliantly-conceived format that echoes the rich history of its subject matter while bringing it to life in a modern, hip, sophisticated manner. By tapping into the modern artisanal, farm-to-table movement and its growing culture, it's apparent that this isn't your grandfather's farming magazine.
The Fall 2014 issue is no exception. Continuing with its established format, its 6th issue, an elegantly simple image of a placid, magnificent animal (a cow in this case) shot graphically with a flat color background and lighting that accentuates the shimmering coat of the healthy animal. The cover lines arranged neatly around the main image in a way that leads the eye comfortably around starting at the top right with the small
and oh so clever, "Have a Cow," to the larger main line in the lower right and secondary lines along the left side. Color is used sparingly and effectively. The pinkish salmon color vibrates a little against the gray background of the image. Black for the main "get ready" line may have been a bolder choice.
– Dean Abatemarco/Design Director/Reader's Digest
…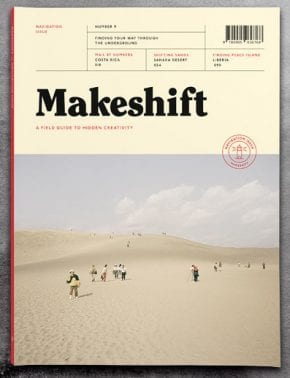 Makeshift
Issue: Number 9
Circulation: N/A
Art Directors: Santos Henarejos, Gema Navarro
Once in a while a magazine does something very particular, and does it perfectly. Makeshift (Number 9) will not scream a magenta promise to give you a six-pack in a week as you pile groceries on the supermarket checkout. in fact, it won't even raise its voice.
The cover is comprised of elements you've seen before: that top-of-the-page grid that's part luggage tag, part catalog entry and part filing system; the subhead with a retro "field guide" title that speaks of more adventurous times; the arty photo tucked down at the bottom of the page. Other mags have used all of that, and will continue to do so. I'm sure I have, or will, too. But no one is going to do it as well as Makeshift. And there's the magic. Every element works. The tiny story heads are enticing (I forgive the double use of "finding"), the image is deliciously strange. And the little lighthouse stamp/logo is just beautiful.
I look at that cover and see a magazine I want on a long train journey. or if I have time
to sit and read in a window seat as the rain lashes against the glass. And I wonder if that old backpack is still in my dad's attic.
– David Gray/Creative Director/Out
…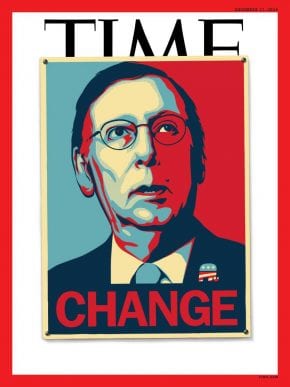 TIME
Issue: Nov. 17
Circulation: 3,289,377
Art Director: D.W. Pine
Because I work on a niche magazine whose exposure is extremely limited, I wanted to pick a smaller pub whose work is only known to a few. But once I saw this cover, I knew it was the best. True, many magazines have parodied the hope poster to great effect but this cover is the perfect storm of wit, timing and to-the- point design. it walks softly but carries a very big stick.
Not only does it use the left's marketing tool that helped elect Obama, it does it with mic dropping execution. The illustration stakes its own claim by slightly covering the logotype, which is the sum total of the adolescent "screw you, lefties," GOP end zone dancing that it could have been, and it lacks any other explanation or cover lines. One word, the image and the design say everything that needed to be said.
– Matt Strelecki/Creative Director/Meredith Agrimedia