Each month, FOLIO: selects a unique and engaging cover and asks industry designers to weigh in with their critiques. Whether it's a consumer, b-to-b, regional or association title, covers are the first point of entry for readers, and can be a deciding factor in whether or not someone chooses to open the book.
A slew of magazine covers garnered attention in 2013—some good, some bad, depending who you asked. Folio:'s editors selected some of the year's most notable covers and asked six designers to pick one and explain why it stood out.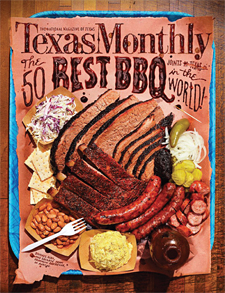 Texas Monthly
Issue: May
Circulation: 281,000
Creative Director: T.J. Tucker
"It's nice to see a bold, in-your-face magazine cover about something that makes so many people happy—ribs, sausage, brisket, beans, slaw and potato salad. It's BBQ!
The cover image is so effective you almost don't need text, but I love the use of sauce for the header and title. Together, the sauce and the food are carefully constructed into a pleasing arrangement. Whole and cut sausages, large slabs of brisket and thick ribs form the center and are surrounded by the "fixin's"—beans, crackers, slaw, pickles and onions. And the bottle of sauce at the bottom balances the weight and tone of the title and text at the top.
While this was clearly an elaborate production, the feel of this image is downhome and real, like it's sitting right in front of you."
– Amy Wolff, Photo Editor, PDN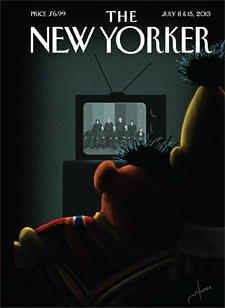 The New Yorker
Issue: July 8-15
Circulation: 1,056,000
Creative Director: Wyatt Mitchell
"The New Yorker's 'Moment of Joy' cover proves that great ideas never die, they just bide their time in the vault until the right moment. And by 'the vault' I'm talking about the mind of Françoise Mouly. 
Mouly gets several submissions from illustrators every week. So many that a few years ago she started a Tumblr blog (blowncovers.com) showcasing the great ones she is unable to publish.
'Moment of Joy' was one such 'blown cover,' originally submitted in 2012 by illustrator Jack Hunter in a slightly different form (Here, the Supreme Court replaces President Obama).
Hunter's dramatic lighting, painterly texture, limited color palette and surprising composition are both witty and beautiful. He has created a very 'real' moment between beloved, yet fictional, characters.
The once nostalgic and forward-looking Sesame Street speaks to many generations.
And Bert and Ernie have been part of our cultural family since 1969. The grey room and black and white TV are a subtle nod to this longevity even mirroring the actual relationship in the case before the Court.
In The New Yorker tradition there are no cover lines, ensuring this is one of the few places, issue after issue, where pure editorial illustration commands your attention. The right illustrator, the right magazine, the right couple and finally, the right timing, made this one of the best covers of 2013."
– Dave McKenna, Art Director, 5280 Magazine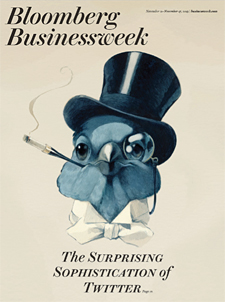 Bloomberg Businessweek
Issue: November 11-17
Circulation: 980,000
Creative Director: Richard Turley
"There were really a handful of Bloomberg Businessweek covers this year that could have fit the bill for this special edition of Face Up. Richard Turley and his creative team regularly put together some of the most creative and clever covers.
This one, featuring an illustration of a distinguished reinterpretation of the iconic Twitter-bird, is one of their best.
It's a clean and uncluttered cover with a brilliant visual that ties perfectly into the content of the article. This is a cover that is really a piece of art in its entirety. The monochromatic illustration is humorous and beautiful.
The nameplate is perhaps the most sacred area of a magazine cover. Although Bloomberg has altered and played with its logo in the past, this time they've totally changed the font in order to mesh with a theme of sophistication. Changing the font of a well-known and long-standing logo like that, right on the front cover of a magazine—that's blasphemy! And I like it."
– Daniel Trombetto, Creative Director, FOLIO: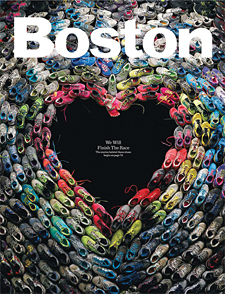 Boston
Issue: May
Circulation: 95,000
Design Director: Brian Struble
"This is my favorite cover from 2013. It is so well conceived, it is difficult for me to find things I would do differently. It is emotional, well thought out, and a flawlessly executed cover that honors the city of Boston.
Most publications tend to run an image of the tragedy when an event like a bombing occurs.  I applaud design director Brian Struble for making this original concept work even though he knew it was quite an ambitious undertaking given the team's schedule.
This idea for a cover was so powerful that it helped shape the content for a rather difficult issue.
The most salient feature is how the shoes are lit more brightly under the logo, which reinforces the direction the shoes are oriented, creating a dynamic composition.
The only thing I would consider doing differently is not having a cover-line."
– Alejandro Chavetta, Creative Consultant, Former Creative Director at Dwell
Sports Illustrated
Issue: April 22
Circulation: 3,065,500
Creative Director: Christopher Hercik
"This cover is a powerful example of a weekly publication using strong photojournalism that aligns with its own identity. The shot was taken by Boston Globe staff photographer, John Tlumacki, a minute after two bombs exploded during the 2013 Boston Marathon. By the time this cover showed up on newsstands, the image had likely been seen countless times in newspapers and online around the world. On the cover, the photo simultaneously captures a horrific moment and puts it in context of the sports world.
This is the kind of honest and in-your-face photojournalism that's too rarely seen on magazine covers these days. It reminds me of the 2001 Fortune cover following the collapse of the Twin Towers on 9/11 that featured a photograph of a businessman covered in ashes. Sports Illustrated was similarly able to connect the story, the image and its own brand while, in my opinion, creating an iconic magazine cover."
– Josh Klenert, Vice President, Design and UX, The Huffington Post, Huffington. Magazine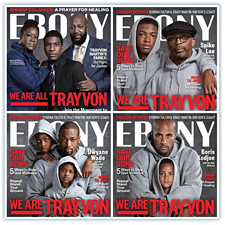 EBONY
Issue: September
Circulation: 1,250,000
Creative Director: Ian Robinson
"This is easily my favorite magazine cover of the past year, and perhaps the strongest of the century so far.
There's a quiet power to this set of four covers, featuring three African American celebrities—Spike Lee, Dwyane Wade and Boris Kodjoe with their sons, and the fourth cover with Trayvon Martin's parents and brother all wearing hoodies to commemorate him.
All four are beautifully photographed and perfectly crafted, and the main headline is simple, strong and connective. The monochromatic color treatment, just using red and white for headlines and the logo is also very smart.
The covers are direct and emotionally impactful in a way that engages the reader and makes a social and political statement at the same time. It's become common these days for magazines to publish multiple covers for the same issue. Oftentimes the results are gimmicky; they use outtakes from the main cover photo, or print alternative cover ideas that make it look like the editors and art directors just couldn't decide on one image. This Ebony cover series is a textbook example of how to do split-run covers, where each stands on its own, but the sum of them together make a memorable whole."
– Robert Newman, Creative Consultant, Robert Newman Design
Have a unique "cover" story? Contact associate editor Caysey Welton at cwelton@accessintel.com