2011 was a year of redesigns and relaunches, as magazine covers aimed to provoke (and as a result, to sell). Some efforts amounted in positive buzz and hiked newsstand numbers; others inspired seemingly unending rounds of media heckling (Newsweek's July 4th cover, which featured a very Photoshopped image of the late Princess Diana, here's lookin' at you). Here, FOLIO: asks three of our 2011 FaceUp participants to weigh in on their favorite covers of the year.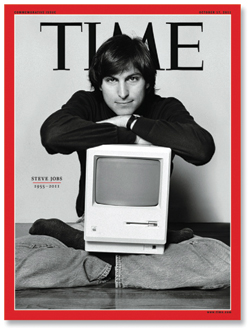 TIME
October 17, 2011

Publisher: Time Inc.
Design Director: D.W. Pine
Managing Editor: Rick Stengel
"I can't guess how many magazine covers have been designed in the past year (and I'm only counting the ones that didn't end up in the AD's drawer). 365 days, 12 months, 52 weeks—hundreds, thousands, maybe more. Weekly, bi-weekly, monthly, bi-monthly, quarterly—you get the idea. Consequently, when I was asked to pick one favorite from the past year, I almost balked. After thinking about it for awhile, I realized that this year I could actually answer that question with conviction. Anyone who's been in the publishing business for twenty plus years (particularly on the design side) will understand my answer."
– Mick Schnepf, Art Director, Traditional Home Magazine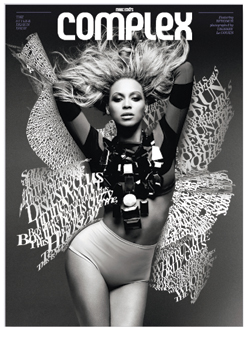 Complex
August/September 2011
Publishing Company: Complex Media
Editor-in-Chief: Noah Callahan-Bever
Art Director: Brent Rollins
"Hard to go wrong with a beautiful cover subject like Beyoncé, but the Complex design and photo team raise the bar for a celebrity cover by wrapping Beyoncé in a beautiful set of undulating typography. For this Style & Design cover story, Complex recruited photographer Thierry Le Gouès and artist Ebon Heath. Stunning photography, sensual typography, and killer styling come together in this iconic, arresting cover. A 'Cover of the Day' for SPD back in July—this cover is my Cover of the Year."
-Josh Klenert, Society of Publication Designers, Vice President, Board of Directors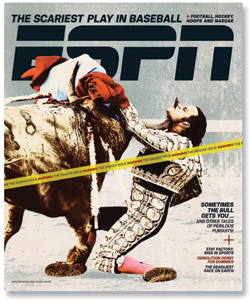 ESPN Magazine
May 16, 2011
Publisher: ESPN The Magazine LLC
Art Directors: Jason Lancaster
Editor-in-Chief: Gary Belsky (now former EIC)
"The gruesome image is stunning, I couldn't stop looking at it. And I loved the decision to understate the size of the main cover line and put it in the yellow strip."
– David Speranza, design director, Bicycling Magazine
Have a unique "cover" story? Contact associate editor Stefanie Botelho at sbotelho@red7media.com.