It's that time of year again. The time when we glance back over the last 12 months to dig up the best examples of visual concept and execution in magazine cover design. Here, we turned to some of our favorite industry design experts to nail down the top three.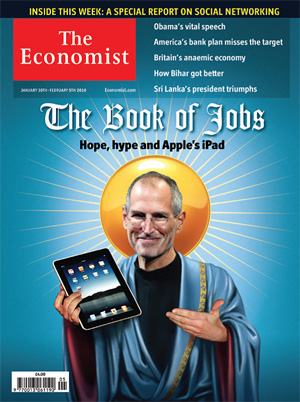 The Economist
January 30 – February 5, 2010 issue
Publisher:
The Economist Group
Frequency: weekly
Circ.: 1.4 million+
Editor-in-chief:
John Micklethwait
This was a clever play on the cult-like following Apple and Jobs have had. It's a play on the Book of Job with the obvious biblical imagery forming a powerful cover.

Does it offend? Does it poke fun? Is it critical of the man? His device? You can't tell. But, if you have an opinion on any of these, then it certainly makes you want to open the magazine. To me, this is Job #1 of any cover. (Pun intended)
Steven Dixon, group art director, Lebhar Friedman's Retail Group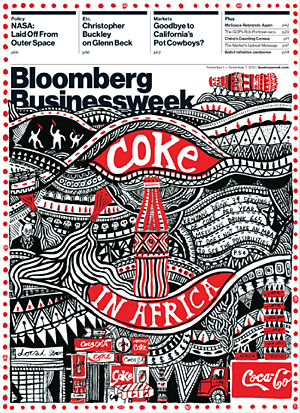 Bloomberg Businessweek
November 1 – 7, 2010 issue
Publisher: Bloomberg
Frequency: weekly
(50 times/year)
Circ: 900,000
Creative Director:
Richard Turley
Editor-in-chief:
Josh Tyrangiel
The recently redesigned and rebranded Bloomberg Businessweek has had some interesting and well-done covers. I thought this one was a nice one. Integrating the text with the illustration is always something that I like to see. Also, the execution and the little details of the tribal designs and figures, the dotted pattern frame, really stand out. The thing that makes it all work is the color palette. Keeping that Coke red and black makes it simple and easily recognizable as a Coke cover.
Brian Taylor, design director, National Defense Magazine
The cover definitely makes me want to pick up the magazine and read it. This is a very good example of transcending the ho-hum approach to a business topic and taking a custom, more creative approach to telling the story. This issue would clearly stand out on the newsstand. The use of black and red works well to highlight the key concepts of both Coke and African art in the overall creative scheme. Overall, the use of a hand-drawn illustration is a refreshing look for a business magazine.
Debra Bates-Schrott, president, Bates Creative Group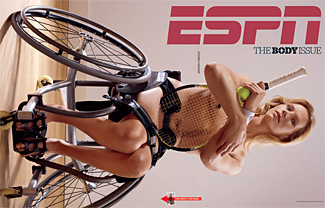 ESPN the Magazine
October 18th (the Body Issue)
Frequency: 24 issues (plus two double issues)
Circulation: 2.2 million
Editor-in-Chief:
Gary Belsky
Creative Director:
Siung Tjia
The Body Issue first published last year was an inspired idea. After looking at 40 years of SI's overpaid and inaccessible swimsuit models, ESPN's cover choice of Esther Vergeer, the Dutch five-time Paralympics champion stands out as one of the great covers of the year and maybe of all time. Gary Belsky, ESPN's editor-in-chief, placed her on the cover. "We thought the shot was visually compelling: surprising, beautiful and full of information," he says.
You might think that the choice of someone in a wheelchair is overly politically correct, but the truth is that it's too sexy to be PC.
JC Suares, creative consultant