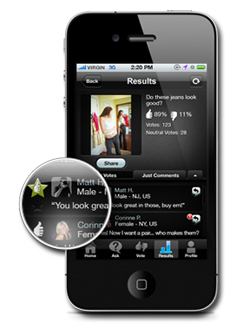 In a move to further integrate its vibrant arts community with the growing mobile world, F+W Media has struck a partnership with Opinionaided, a software company that helps users get and give opinions over mobile devices in real time.
Incubated by Red Bank, New Jersey-based technology company Kurani Interactive, the Opinionaided application launched July 12 and allows users to ask a larger community of registered users their opinions on any topic of their choice. The free app currently is available on Apple's iPhone and the plan is to extend the platform to Android and Blackberry soon. There also is a Web version with limited functionality that was created mainly so people can access to it from Facebook.
After registering, users are able to post questions, answer other people's questions, reply to and vote for the best responses. "Initially, we anticipated people would only vote, on average, about 10 times per month," Opinionaided founder and CEO Dan Kurani tells FOLIO:. "Since we launched, we're seeing that the average person votes on queries about 200 times per month. And instead of using it as a tool to ask a lot of questions it turns out people are using it as a tool to help other people."
The app, Kurani says, is built on a centralized database with a PHP-based back-end. In all, he says the mobile community consists of about 15 sub topics, including home and garden, fitness and gaming. Kurani says Opinionaided is looking to partner with publishers and other brands to build out those categories. "For publishers, it extends their mobile footprint at no cost and can be a valuable tool for developing their audience, and collecting data," he says.
For F+W, the objective is to create an art, design and photography community. "We've been looking at different mobile app proposals when Kurani approached us with this idea," says Gary Lynch, publisher and editorial director for F+W's design community, including the HOW, Print and I.D. brands.  "We liked that it was being created by designers for designers, the navigation was simple and intuitive and crowdsourcing is popular among our customer base."
Lynch says Kurani Interactive builds the app and manages the service while F+W's design community attracts new users.  F+W markets the service to its audience and receives a share of revenue, which is split with Kurani. Advertising generally appears in the "results" section of the app.
"What we get out of the deal is the opportunity to build our brand and the creation of a new revenue stream with little downside risk," Lynch says.
Since launching, Kurani says Opinionaided has received more than 4 million responses to more than 50,000 questions. He says users are spending an average of 40 minutes each week using the app.