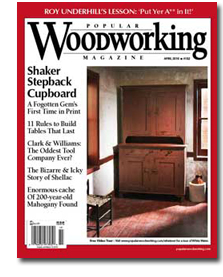 F+W Media has merged Popular Woodworking and Woodworking Magazine. The new, combined title, called Popular Woodworking Magazine, will begin publishing with the April 2010 issue.
Merging the titles, according to publisher and editorial director Steve Shanesy, will strengthen the new magazine, giving it a "single brand focus." "The merger of these two titles was driven from the bottom up, not the top down," Shanesy told FOLIO:. "I took the concept to F+W senior management only after consultation with key editors, my circulation director and advertising sales. This was an important vetting process because I wanted to be certain that this was a good strategic move before taking it to the executive team."
Both Popular Woodworking and Woodworking Magazine targeted enthusiast woodworkers, however Woodworking Magazine did not carry advertising. Popular Woodworking published seven times a year and carried a 165,000 circulation. Woodworking Magazine, a quarterly, carried a 25,000 circ.
Editor Chris Schwartz said the new magazine will be printed on thicker, brighter and larger paper, and will be designed in a way that "blends the nice color photography of Popular Woodworking with the understated look of Woodworking Magazine." Shanesy said Popular Woodworking Magazine will publish seven times annually and will carry a circ that's slightly higher than 165,000. It, like Popular Woodworking, will also carry ads.
No layoffs were associated with the merger, Shanesy said.