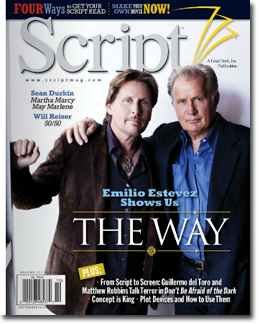 F+W Media adds another property to its portfolio, acquiring Script Magazine from Final Draft, Inc. For an undisclosed amount, F+W will now have complete ownership of Script content.
Under F+W, Script Magazine's print property will fold. Current subscribers will have access to scriptmag.com, and will be sent Writer's Digest magazine in the place of Script, until their subscriptions expire.
Sara Domville, president of F+W Media, says the screenwriting magazine is a strategic fit for F+W's current portfolio of content, product, webinar and e-commerce services. "We felt that after our acquisition of the Writers Store, which gained us access to the online retailing unit in California, that we'd seen some great synergies between screenwriting and novelists. Our Writer's Digest audience is prominently novelists," she tells FOLIO:.
Plans to monetize Script's content are still in early stages. "We'll look at how to utilize that content and provide a whole range of digital products, and maybe some print products on the back of it, too," says Domville. "We're also launching some online courses, which have been very successful with Writer's Digest. We've launched 50 webinars in the Writers Store."
The virtual Writers Store is an extension of a brick-and-mortars location in Burbank, CA. Domville describes the 30-year-old store, "[Writer's Store president] Jesse Douma understands that audience. We call the store employees 'story specialists'; half of them are screenwriters themselves."
In 2012, F+W will host two writer-targeted conferences: a New York event in January, and a West Coast event slated for the fourth quarter.
"The combination of the Writers Store and Script, under the Writer's Digest umbrella, give us an opportunity to work very closely with the audience and create a wide range of products," says Domville.
Domville declined to share circulation or revenue range for Script.