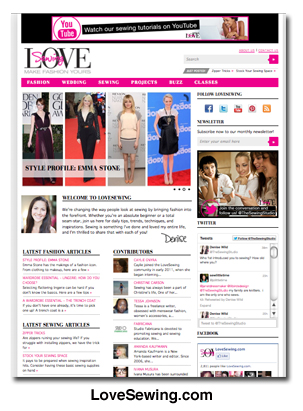 F+W Media announced that it plans to acquire a sewing vertical complete with retail locations and a digital content portal—The Sewing Studio and LoveSewing.com will join the F+W family effective May 1.
The Sewing Studio, which was founded in 2004, has retail locations in Toronto and New York City and runs fashion camps, specialty sewing classes and sewing boot camps, among other programs. LoveSewing.com is an online content site designed to deliver the sewing community the latest news and sewing trends from the fashion industry.
Terms of the deal are not being released.
"Education—both online and live events—is the fastest-growing segment of our company," says F+W Media chairman & CEO David Nussbaum in a statement.  "Whether we create our own courses, work with a partner, or in the case of The Sewing Studio acquire a business already doing excellent work in the space, we will continue to strategically build our education portfolio to meet our community needs."
This is just the latest deal F+W Media has undertaken. In 2012, the company completed several large acquisitions, including that of Interweave Press and The Martha Pullen Company. Just six days ago the company announced it had struck a licensing partnership with Germany-based Hubert Burda Media. The deal sets up F+W as the U.S. and Canadian publishing and sales operation for what will become Burda Style USA—a digital, e-commerce and print platform for DIY fashion and sewing enthusiasts.
Denise Wild, founder of The Sewing Studio and a former magazine editor will become content director for the BurdaStyle USA business, and Wild's staff will also join the F+W team. The company plans to develop BurdaStyle USA as an integrated business that will include an online community of more than 800,000 members, an e-commerce store, in-person and online education services, video content, events, a magazine, books and e-books.
Stay updated on the latest FOLIO: news, follow us on Facebook & Twitter!