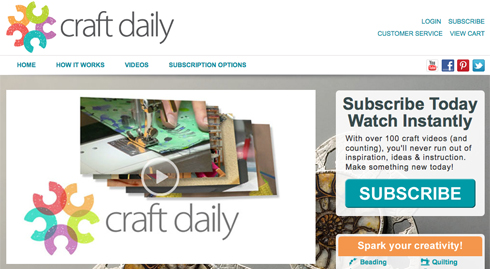 Enthusiast media company F+W Media has just launched a new video subscription site for crafters called Craft Daily. The site is a paid content venture, with a tiered subscription model enabling unlimited views at monthly or yearly terms.
A monthly subscription for content across all of the nine crafting categories is $19.99 and yearly is $199, both auto-renew until a user cancels. If a customer only wants a subscription to, say, the beading video content, then the pricing drops slightly to an $11.99 monthly sub and a $119 yearly subscription.
The pricing is aggressive, but the content is ad-free and solely focused on how-to workshops and tutorials, a format that offers real value.
All the videos are available on desktop and mobile platforms, including iOS and Android devices.
Currently, the company says there are more than 130 videos available, with more being added regularly.
The site is part of F+W's Interweave division, a group it bought a year ago, largely attracted by the market fit and Interweave's e-commerce capabilities.

See Also: F+W Acquires Aspire Media