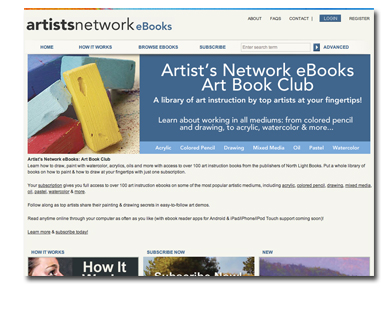 [Editor's Note: This story first appeared on Folio: sister site minonline. ]
The all-you-can eat model for digital media has done wonders for Netflix and Spotify in video and music segments, and so it was just a matter of time before more book publishers tried the idea on the exploding eBook market. Enthusiast magazine and book publisher F+W Media is starting with the artist vertical in its Artist's Network eBook Club. Over 100 of the most popular art instruction volumes are available online, fully illustrated and enhanced with interactive functionality for a $199 subscription fee.
The eBooks are designed for universal access from Web browser and eventually from iPad, iPhone, iPod Touch and Android-based devices. Device access is coming soon according to the site. But the current browser interface lets the reader filter the collection by art medium and other parameters. Bookmarking, searching, chapter navigation etc. are all integrated into the reader. Notes can be implanted within your reading version of the ebook. The subscriber can maintain folders of recently read items for easy reference. The subscription also allows for reader Q&A with F+W experts.
According to F+W Chief Digital Officer Chad Phelps, the subscription will be available to device users in the next 7-10 days via apps in the iOS App Store and for Android. Phelps tells Folio: sister site minonline that the $199 price tag is in line with the market norms. "We have similar products with a similar value proposition in this space for artists," says Phelps. "The price is based on the depth of content available, unlimited access and use, and the value of the specialized content."
F+W says that the new model, which is based at the ebooks.artistsnetwork.com site overcomes two of the common choke points in ebook distribution—discoverability and compatibility. The site-based approach helps a targeted audience of enthusiasts find the books they most want without navigating multiple app stores. And the books are compatible across an otherwise fragmented device terrain of eReaders and their competing operating systems.
A specialty publisher with a close relationship to its niche constituency is best able to find the target audience and craft an ebook portfolio tuned to their needs says F+W CEO and chairman David Nussbaum in a statement. "We have a unique vantage point in that we are in direct communication with our millions of customers every day, and have been for years," he says. "This valued relationship, this open dialogue, allows us to create and directly deliver the exact products and services our customers seek. Lack of discoverability is not holding us back."
F+W plans to roll out similar eBook clubs across other verticals in coming months. Niches such as writing, firearms, romance fiction, genealogy, craft and woodworking will get subscription services as well. All of them will use the back-end technology iPublishCentral from Impelsys.