F+W Enters Licensing Partnership with Hubert Burda Media

Deal opens up U.S. and Canadian market to multiplatform Burda Style brand.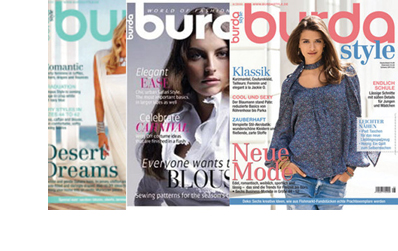 Craft and enthusiast media and e-commerce company F+W Media has struck a licensing partnership with Germany-based Hubert Burda Media. The deal sets up F+W as the U.S. and Canadian publishing and sales operation for what will become Burda Style USA—a digital, e-commerce and print platform for DIY fashion and sewing enthusiasts.
Burda Media, a $3 billion company based in Munich, has also extended its publishing operations across Switzerland, Eastern Europe and Russia and until now had no representation in the U.S. or Canadian markets, except for a New York-based office running a U.S. website.
As part of the deal, F+W will take over operation of that website, which currently has over 800,000 registered users, says F+W chairman and CEO David Nussbaum. "Essentially we are responsible for everything e-media, e-commerce, sales and content. But we also get to tap into the Burda Style global content machine. The intent is to broaden our relationship into other opportunities with Burda."
According to F+W, first steps will focus on building a U.S. publishing operation for Burda Style—a Burda Style magazine, e-magazines, books and e-books, as well as PDF sewing pattern collections and instruction programs.
F+W will also offer direct-to-consumer online product sales and will begin growing the U.S. market through SEO and SEM campaigns, email marketing and social media.
"The business will quickly scale to a multi-million dollar business with a robust e-commerce business, online events, live events, books, e-books and a magazine that launches this fall," adds Nussbaum.
See Also: F+W Media Hires Amazon Exec to Fill VP Ecommerce Role
F+W Media made several acquisitions in 2012, including enthusiast publisher Aspire Media and The Martha Pullen Compnay—a deal that set up F+W with a hard-goods fulfillment operation.
Meet the Author
---