F+W Axes I.D. Magazine

January/February edition of 55-year-old title will be its last.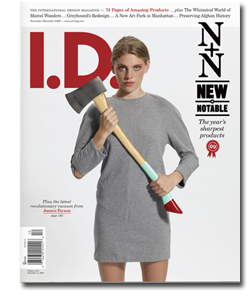 Enthusiast media company F+W Media announced Tuesday it will shutter I.D. magazine. In a refrain common among magazine publishers these days, the company said the print advertising downturn coupled with a fragmented information landscape contributed to its demise.
The New York-based I.D.—which covered the business of the international design community and published seven times per year—went through a significant editorial shakeup last spring when its editor-in-chief, managing editor and senior editor all left for other opportunities.
By May, the magazine had hired Jesse Ashlock as its new a new editor-in-chief, and, in an announcement about the hire, F+W Design Group publisher and editorial director Gary Lynch said, "One of our objectives is to build the I.D. brand into a multi-platform business."
It is unclear how many employees will be cut as a result of the shutdown. A spokesperson did not immediately return requests for comment.
In a memo to readers and advertisers announcing I.D.'s closure, Lynch, along with F+W Media president David Blansfield, said the title was a victim of the growing sources of design information, online and off. "Certainly the downturn in print advertising has contributed to this decision," read the statement, "but other factors include the fragmentaton and specialized information needs of I.D.'s core readers (product designers) and the plethora of information resources available to them—some for free (online and B2B) and others that are highly specialized and targeted to specific industries served."
F+W Media still has two more brands in its Design Group—HOW and Print. The company will fulfill remaining I.D. subscriptions with copies of Print magazine.
Going forward, F+W will maintain the I.D. Annual Design Review, an international product design competition in an "expanded fashion" online.
Meet the Author
---