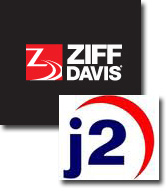 Cloud services provider j2 Global has acquired long-standing tech media publisher Ziff Davis Media (ZDM), the companies announced Monday.
The purchase is for $167 million and is expected to be immediately accretive, according to the release. The transaction will be funded from j2's cash on hand.
"We have years of experience and significant interest in the digital media and online marketing space both as a large scale consumer of advertising and as a seller of advertising on our ad supported properties," said Hemi Zucker, CEO of j2 Global, in a statement. "This acquisition brings scale to this effort with a top leadership team deeply committed to building the business through organic growth, which we expect to continue."
While ZDM CFO Andy Johns declined comment, multiple sources say the sale was an ad play for j2.
"It's pretty clear the ZDM sale was not predicated so much on the legacy media brands, but much more so on the ad network that [CEO] Vivek [Shah] established along with the clever targeting capabilities he developed for consumer tech buyers," according to a knowledgeable industry source. "The valuation on ZDM is stunning–it's the difference between marketing a digital pure-play business and one that was perceived to be a traditional media house."
No reports of possible reorganization or future plans for ZDM brands–including PCMag.com, ComputerShopper, ExtremeTech, Geek.com, ZiffDavis B2B and ad targeting platform BuyerBase–had surfaced as of Monday afternoon.
Launched just under two years ago, BuyerBase collects, stores and analyzes real-time audience data to provide targeted advertisements based on user behavior.
The ZDM sale was kept quiet until today according to a source with intimate knowledge of the market, and comes just two years after former Time Inc. digital group president Vivek Shah and investment firm Great Hill Partners (GHP) joined to purchase ZDM in June of 2010.
Terms of that deal were not disclosed, although the source estimates the deal was likely between $40 and $60 million. GHP says it targets equity investments of $30 to $150 million with a holding period of three to seven years.
Ziff Davis, which currently reaches over 50 million in-market buyers every month, split and sold its Ziff Davis Enterprise (ZDE) division to Insight Venture Partners in 2007 for $150 million. ZDE was then sold to lead-gen firm QuinStreet in February of this year, resulting in massive layoffs.
Following the 2007 split, ZDM was one of the first media companies to file for bankruptcy in March of 2008. Emerging that summer with a deleveraged balance sheet, ZDM then shuttered or sold each of its remaining print brands to go digital-only in early 2009.
The j2 purchase is the latest in a line of precipitous drops for Ziff Davis since it stood at the top of the tech media world in the late-1990s.
While j2 expects to add $60 million in revenues for 2013 as a result of the acquisition, Ziff Davis was generating 10-times that a little more than decade ago-in FY1999, the company produced $535 million. Two years later it was down to $430 million, and by 2002, earnings had fallen to $209 million. Revenues in its last full year before separating, 2006, were $181 million.
j2 Global provides cloud-based individual and business messaging services through brands eFax, Onebox, eVoice, Campaigner, Fusemail, KeepItSafe and CampaignerCRM In its Q3 statement, j2 reported an 8.4-percent increase in revenues (up to $93.2 million) and an EBITDA of $50.5 million. The company expects to exceed previous earnings estimates of $365 million as a result of the acquisition. 
To stay updated on the latest FOLIO: news, become a Facebook fan and follow us on Twitter!