Exhibition Industry Growth Slows

Year-end numbers show across-the-board declines, 'fiscal cliff' to blame.
Despite an optimistic forecast, the year-end numbers show growth slowed for the exhibition industry in 2012.
Business grew 1.5 percent overall, lagging behind a 2.2 percent growth rate of GDP, according to the Center for Exhibition Industry Research (CEIR) Index released today.
CEIR had estimated industry growth of 2.9 percent after a 2.7-percent increase in 2011.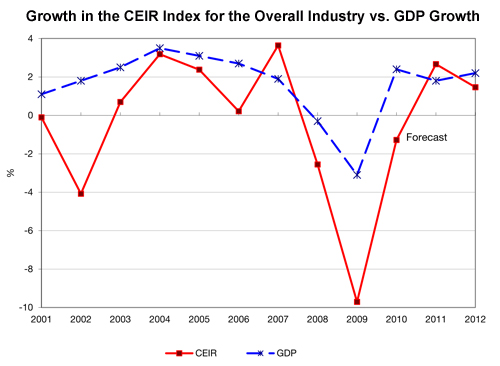 Officials blamed a weak second half on the looming threat of economic crisis.
"We had a positive outlook during the first and second quarters of 2012, however, the exhibition industry began to slump in the third quarter and continued through the end of the year," says Allen Shaw, CEIR economist. "We attribute this to the well-publicized prospect of the 'fiscal cliff' which substantially hurt business sentiment and willingness to incur travel expenses, and ultimately hurt the exhibition industry."
Performance by sector was polarized, according to the report. Those expecting to do well did better than projected, while those anticipating difficulties faced an even harsher reality. Discretionary consumers services and sporting goods, travel and entertainment led the field in positive growth.
Attendance (1.0 percent), net square footage (0.8), exhibitors (0.2) and revenues (1.3) each declined in the fourth quarter.
Though the numbers were lower than expected, it was the tenth consecutive quarter of improvement. The industry had suffered nine consecutive quarters of decline before turning around at the end of 2009.
To stay updated on the latest FOLIO: news, become a Facebook fan and follow us on Twitter!
Meet the Author
---