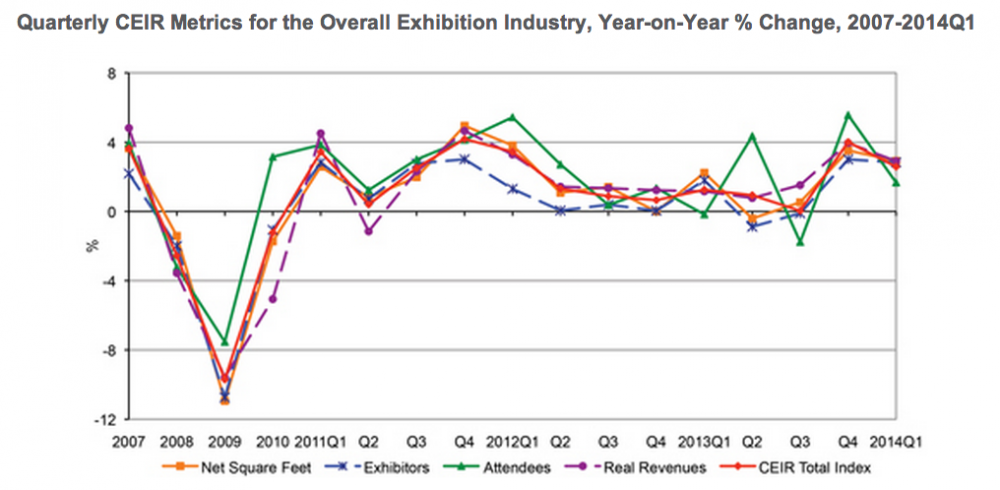 The trade show industry just posted its largest first quarter gain since 2011 and its 15th-consecutive quarter of growth, according to the Center for Exhibition Industry Research (CEIR).
CEIR, which measures industry performance using an aggregate formula that accounts for net square footage (NSF), number of exhibitors, attendance and revenue, says overall performance was up 2.6 percent year-over-year and outperformed GDP by 0.6 percent in the first quarter of 2014.
"We are very pleased by the first-quarter results which are positive and confirm our forecast that ongoing growth is still anticipated for the exhibitions and events industry," says CEIR's economist Allen Shaw, Ph.D. "The performance in the first quarter was quite remarkable considering the fact that the east coast was frequently paralyzed under severe winter weather. With 15 consecutive quarters of growth, we are confident in the continued growth and progress of the industry."
Broken down, NSF and revenue each rose 2.9 percent, with exhibitors up 2.8 percent and attendance higher by 1.7 percent.
The rate of growth fell off slightly from Q4 of 2013—the industry grew 3.0 percent year-over-year from Oct. through Dec.—but still managed to generate better returns than it had at any other point in the prior two years.