Executive Travel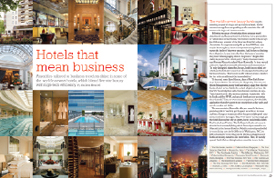 Ozzie Winner: Best Feature Design, B-to-B Above 100,000 Circulation
Executive Travel, part of the American Express Publishing group of titles which also include Travel + Leisure, Food & Wine and Departures, has a bit more of a b-to-b leaning, but must also maintain the same luxe characteristics as its sister titles.
"Our audience is basically a 55-year-old male executive," says art director Larry White. "From a design standpoint, that's what we keep in mind. It's executive travel, so we have to keep it upscale. That's the design take, and from an editorial standpoint, it's the same thing."
The winning feature, "Hotels That Mean Business," utilized a variety of supplied photography from the venues themselves and White decided to frontload the feature with an opening spread that highlighted all that imagery. "Luckily on this story we received plenty of beautiful photos from the hotels. I knew I wanted to use that on the first spread. The takeaway from this story was they're not just great hotels, so we tried to get creative on the amenities they offer that sets them apart."
Interior graphic treatments focused on that amenity theme, and White opted not to take the easy route by simply showcasing typical hotel shots. The small images used to represent the various hotel amenities helped tell the story visually and gave the reader different levels of involvement, says White.
That point-of-entry tactic is used throughout the magazine, not just features, says White. And given the busy nature of executives, that's likely a smart choice. "If you're a person who only has a couple minutes, you can still get a sense of what the story is about," he says.
Meet the Author
---