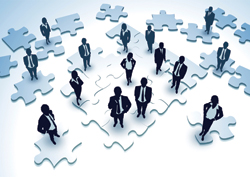 One almost needs a flow chart to keep track of the barrage of high-profile executive changes at consumer publishing companies over the last two months. In July, Condé Nast group president David Carey left the company to take over as president of Hearst, with longtime president Cathie Black moving up to chairman. Subsequently, Condé Nast announced a management reorganization that resulted in consumer marketing president Robert Sauerberg becoming president. Linda Johnson Rice resigned as president of Johnson Publishing, as did president and COO Anne Sempowski Ward (Johnson Rice was replaced by Johnson consultant and former White House social secretary Desiree Rogers).
Then came the surprise announcement that Jack Griffin, president of Meredith's National Media Group, would be replacing Ann Moore as CEO of Time Inc.
Additional changes include U.S. News & World Report president Bill Holiber taking on the role of CEO at New York Daily News (while retaining his old job), audio magnate Sidney Harman buying Newsweek and enthusiast publisher Kalmbach Media acquiring Discover. What's clear is major consumer publishers are pursing a significant change in direction. How, and if, they get there, is another question.
Where They Go from Here
Wooing Carey from one of its chief rivals is seen as a major coup for Hearst but it may say as much about the current direction of Condé Nast. In June, longtime Vogue publisher Tom Florio left Condé Nast with hopes of starting his own company. Some observers say both Carey and Florio (and other higher-ups) were frustrated with a lack of upward mobility, with  CEO Charles Townsend still very much in control. A return to Hearst (he served as publisher of SmartMoney, Hearst's joint venture with The Wall Street Journal) gives Carey the chance to run a major magazine company.
Shortly after the departure of Carey and Florio, Condé Nast announced a management reorganization it says aligns the company for digital growth, including the promotion of consumer marketing group president Robert Sauerberg to president of the company. The moves were part of a transitioning business model "focused around digital connectivity, technology development and consumer insight."
 It also signifies a major shift from an emphasis on print advertising to pursuing a greater understanding of the relationship between publisher, marketer and audience. In making the announcement, Townsend said the company needs to "move away from the magazine."
"Condé Nast has evolved from a publishing company into a media company," Sauerberg told FOLIO:. "Print is still a key medium for Condé Nast and will be for a long time to come. However, it is not our only focus. Technology and consumer expectations have changed dramatically, and we think this is the moment to double down on the opportunities before us."
CLICK HERE FOR A CONSUMER CEO SCORECARD
More Emphasis on Marketing Services? 
The question is how a company like Condé Nast reconciles the difference in revenue between print (declining, but still enormous) and digital (promising, but still fairly small.) "Our goal is to increase our consumer touch points and monetize all of those optimally," says Sauerberg. "We see great potential in our brands on all platforms and believe a concentrated effort focused on the consumer relationship and valuable content experiences will be beneficial for our advertising revenue."
The announcement talks about Condé Nast becoming more focused around a number of things, among them consumer insight and becoming a "marketing facility." "Consumer insight and knowledge from our vast databases and research capabilities will be the enabler of growth," says Sauerberg. "We will continue to use consumer behavior and trends to inform our strategies and allow us to iterate in a way that drives consumer engagement. Condé Nast has always offered our clients unparalleled services, but under this new structure and [CMO] Lou Cona's guidance, we intend to enhance our vast array of media opportunities to speak to the ever changing needs of our advertisers through this recession environment and beyond."
Meanwhile, Griffin's succession at Time Inc. has many observers predicting he will turn the company from traditional publisher (today that means both print and digital) to one more reliant on marketing services.
At Meredith, Griffin oversaw development of Meredith Integrated Marketing, including the acquisitions of marketing agencies such as Big Communications, a Ferndale, Michigan-based pharmaceutical and biotech marketing firm; mobile marketing agency The Hyperfactory, consumer health search engine Healia and database/CRM firm Directive. Today, Meredith Integrated Marketing accounts for 20 percent, or $20 million of Meredith National Media Group's $1 billion in revenue.
In a Q&A with FOLIO: earlier this year [February 2010], Griffin had said "Online display advertising will be no one's salvation. Growth in marketing is not happening in traditional advertising, it's happening below the line. It's happening with CRM, it's happening in digital relationship marketing, it's still happening with custom publishing and mobile."