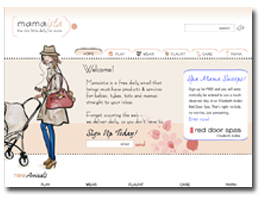 The curated, daily e-newsletter market for women is getting another entrant.
There's DailyCandy, the pioneering e-newsletter. There's I Heart Daily, a Daily Candy-like e-mail for teenage girls launched last year.
Now, there's Mamaista—a free daily e-mail newsletter and Web site for moms—launched this week by Elina Furman, former editorial director of WomansDay.com and Seventeen.com.
"There was not one daily e-mail that delivered practical and stylish product recommendations for moms in a fun, concise and well-designed format," Furman said.
She said wanted to make the tone, look and feel of the site grown up and sophisticated for "DailyCandy grads."
Mamaista.com will deliver a single "road tested" product recommendation each weekday, including children's toys, clothing, food and health-related products and "stuff for moms."
"Our goal is to secure advertising that is relevant to our demographic within 6 months to one year, but we plan to be very selective," said Furman. "We will never accept revenue for featured products. Our editorial policy is extremely strict. We will, however, send out sponsored e-mails which will be clearly labeled as a paid advertisement."
Furman hopes to draw between 5 and 10 percent of mom market—roughly 10 million U.S. women—between 500,000 to 1,000,000 subscribers. Furman sees DailyCandy's model—which saw $25 million in revenue and $10 million of EBITDA at the time of sale with 2.5 million subscribers—as a yardstick for Mamaista. "If we have the same success, this equates to $10 of revenue and $4 of profit per subscriber. While we know that the relationship is probably not linear, it is nevertheless a very profitable market."
 
Furman said she plans to roll out local editions, including New York and L.A., in the coming months.