YTC Media To Resurrect Folded Penton Mag Paper, Film & Foil Converter

Much of original PFFC staff will remain intact.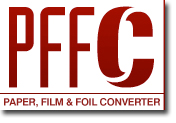 In August, Penton Media announced it would be shuttering converting and package-printing magazine Paper, Film & Foil Converter [PFFC]. The magazine had an 84- year run: it debuted as The Envelope Industry in 1927 before rebranding as PFFC in 1953.
With its August issue marked as its last, and its digital properties only supposed to run through September, Penton SVP of strategy & development Warren Bimblick told FOLIO: at the time, "The reality was we tried as hard as we could but if you're trying to grow the company you have to look at marginal products and refine the portfolio. The virtue of Penton is that we are highly diversified but sometimes diversification with small brands that don't have a growth profile is a bad thing."
This goodbye has since proven premature, as Chicago-based company YTC Media, Inc. has acquired the PFFC property. Much of PFFC's original staff remains intact: Yolanda Simonsis will return as editorial director and will act as president; Timothy Janes will serve as vice president of online sales; and Claudia Hine will once again be PFFC's managing editor.
According to a PFFC press release, the website will continue to be updated daily. A weekly publication schedule will begin on November 1 with PFFC's E-Clips e-newsletter, and a bi-monthly product-focused E-Xpress e-newsletter relaunching in 2012.
PFFC plans to leverage its online presence through a greater search engine push, continuing to offer videos, webinars, podcasts and white papers. "There will not be a print magazine. We're taking the lead and surging forward with what appears to be the more accepted way to get news, and that's online," says Simonsis.
Meet the Author
---