Ex-Life & Style Editor Launches Web Site

Blog to feature commentary on 'the hottest covers on the newsstand.'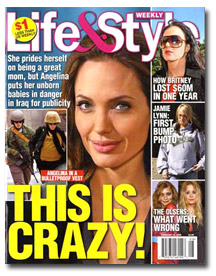 Mark Pasetsky, who served as Life & Style's general manager and, later, its editor-in-chief, today announced a launch of a Web site that will cover, at least in part, his old magazine.
The blog, CoverAwards.com, will feature content focused on magazine covers, newspaper covers and Web Site home pages.
According to Pasetsky, the goal is to "offer the media industry and consumers a place to converse about the hottest covers on the newsstand, as well as Web site home pages." Pasetsky also plans to interview editors for the cover "backstories," and break cover news "on a daily basis."
Pasetsky left the Bauer publishing title last year.
The site is the first for Pasetsky's newly-formed Tecktonik Media, a digital media company. According to Pasetsky, the name of the company is "inspired by the new Tecktonik dance that originated in Paris and is quickly spreading around the world."
Tecktonik is not to be confused with Pasetsky's other company, Mark Allen & Company, a public relations and consulting firm that does, among other things, cover consultation.
Meet the Author
---