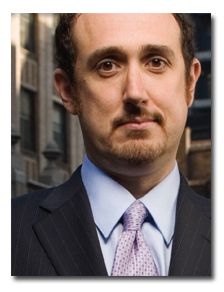 Randall Lane, the former president of failed Doubledown Media, is facing a $100 million lawsuit after claims in his new book suggest shady business practices by a former partner: baseball star, stock market player and one-time magazine entrepreneur Lenny Dykstra.
In the book, called "The Zeroes:  My Misadventures in the Decade Wall Street Went Insane," Lane [pictured] claims that Dykstra, who produced a column and premium e-newsletter on TheStreet.com, received $250,000 from vending machine technologies company AVT to plug its stock on the financial site. Lane says he is sure that CNBC "Mad Money" host Jim Cramer, who owns and operates TheStreet, "had no knowledge of Dykstra's 'pay to plug' scheme—an arrangement that could well lead to a Securities & Exchange Commission investigation. He was just a dupe."
As a result, AVT has filed a lawsuit against Lane in California Superior Court, claiming libel and false statements. "We are simply not going to allow anyone to publicly defame AVT in this matter without taking action against them," AVT founder Shannon Illingworth says in a statement.
A spokesperson for Lane did not immediately return a request seeking comment.
Back in 2008, Dykstra sued Doubledown Media—the the once-rising publisher of magazines aimed at the Wall Street elite—accusing Lane of breach of contract and for control over the Player's Club, a magazine Dykstra launched with Doubledown. The now-defunct publishing company struck back soon after with a suit of its own, alleging that Dykstra owed it more than $500,000 in unpaid bills.
In February 2009, Doubledown Media closed down after it ran out of money. Failing to sell its assets—including Trader Monthly, Dealmaker, Corporate Leader and the Cigar Report—at an auction, DealFlow Media Acquisitions Inc., a provider of independent research and analysis of alternative assets markets, later acquired the customer lists for those titles.
In July 2009, Dykstra filed for Chapter 11 bankruptcy protection. The petition claimed he had $50,000 in assets and between $10 million and $50 million in liabilities.