Ex-BusinessWeek Prez to Head McGraw-Hill Construction

Keith Fox transitions to president of trade group.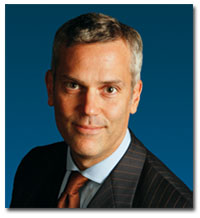 Nearly five months after saying he was stepping down as president of BusinessWeek but that he'd remain with parent company McGraw-Hill, Keith Fox Monday was named president of McGraw-Hill Construction. He replaces Norbert Young, who left the company last fall.
According to McGraw-Hill Information & Media president Glenn S. Goldberg, Fox [pictured] will work with management to enhance McGraw-Hill Construction's leadership "in providing information, marketing services and analytics to the construction industry and to accelerate our growth in the emerging areas of sustainability, renovation and technology-enabled design and construction."
Fox served as president of BusinessWeek from 2007 until its sale to Bloomberg LLC in December 2009. He joined McGraw-Hill in 2000 as senior vice president of marketing and business development for BusinessWeek.
Fox takes over at McGraw-Hill Construction—which includes its Dodge division and publishes Architectural Record, Engineering News-Record, GreenSource, and 10 regional publications—as the group faces legal action from competing publisher Reed Construction Data, a unit of b-to-b publisher Reed Business Information. The suit charges corporate espionage, among other things.
Reed's 60-page complaint, which was filed in October, alleges that McGraw-Hill's Dodge Construction division unlawfully accessed confidential and secret trade information from RCD by hiring consultants to subscribe to RCD's confidential data, using made up names and fake companies. It also alleges that Dodge manipulated the RCD information to create "misleading comparisons" between Dodge and RCD's products and services "in an attempt to mislead the marketplace."
In November, McGraw-Hill filed a motion attempting to dismiss five counts of misconduct in the case. Reed subsequently refiled its complaints and the two met in court again for a March 24 hearing, with McGraw-Hill again attempting to dismiss the five counts. The court has not yet made a ruling.
Meet the Author
---