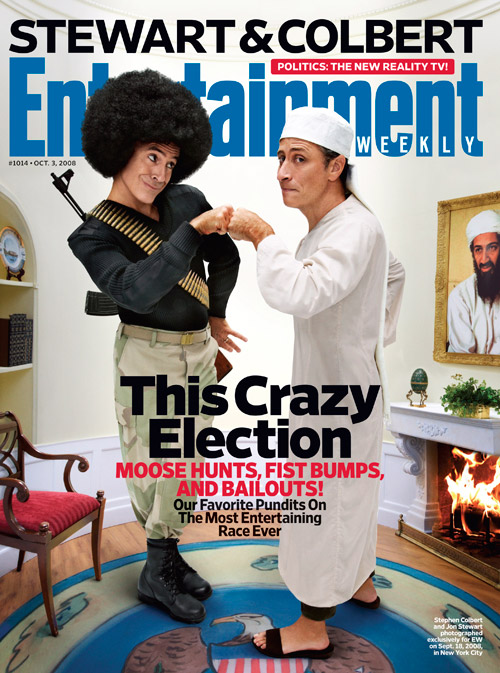 In this election cycle, a month can feel like a year. Which is why it was either a brilliant or bone-headed move by Entertainment Weekly to recreate the New Yorker's now-infamous "Fist-Bump" cover—featuring depicting Michelle and Barack Obama as gun-toting, bin Laden-loving, fist-bumping radicals published back in July—with Jon Stewart and Stephen Colbert playing the respective roles of the Democratic hopeful and his wife—fake afro and all.
The issue hits newsstands tomorrow.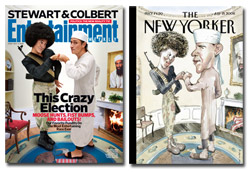 The New Yorker, you'll recall, faced harsh criticism from both the Obama and John McCain campaigns, with editor David Remnick forced to defend the cover—and the definition of satire—to national media outlets. I doubt EW editor Rick Tetzeli is going to face that kind of scrutiny—Stewart, as I argued in a post about the New Yorker flap, isn't forced to answer questions in the middle of the night about the Daily Show's on-screen graphics.
But EW can only hope the cover generates same type of sales bump. The July 21st New Yorker sold approximately 75,000 single copies, according to ABC's Rapid Report—nearly double its 39,202 copy average.
The article itself features some blistering quotes from Stewart on the media's fascination with McCain's running mate, Sarah Palin: "Everyone likes new and shiny," says Jon Stewart. "We're bored. What's great about that is [Democratic VP candidate Joe] Biden is an absolutely eccentric character. That's how powerful Palin's story is—it has cast the first African-American presidential nominee, the oldest [non-incumbent] presidential nominee, and a really wild cork vice presidential candidate completely out of the picture. The press is 6-year-olds playing soccer; nobody has a position, it's just "Where's the ball? Where's the ball? Sarah Palin has the ball!" [Mimes a mob running after her.] Because they can only cover one thing."
"I keep hearing that she's 'like us.' There's this idea that people who hunt and have 'good' values are somehow this mythological American; I don't know who 'this' person is, I've never met them," Stewart continues. "She is no more typical 'us' than I am, than Obama is, than McCain is, than Mr. T is. If there is something quintessentially or authentically American about her, I sort of feel like, you know what? You 'good values people' have had the country for eight years, and done an unbelievably sh*tty job."