As publishers and advertisers alike continue to invest heavily in digital media, the dynamic of the traditional ad sales relationship is changing. Multifaceted marketing campaigns in addition to conventional print and digital advertising have led to increased involvement on the part of clients. We reached out to sales executives at three major consumer, B2B and enthusiast magazine publishers to learn how the concept of relationship selling has changed, and what they're doing about it.
Client-First, Now More Than Ever

We're seeing a lot more involvement on the client side," says Sean Weglage, SVP of sales at IDG Enterprise. "There are a lot of new options and new opportunities out there for clients."
Opportunities, such as custom content or event sponsorships, have only increased the direct role of clients in the decision-making process, but they aren't limited to new campaign components. Publishers have unprecedented access to audience data, leading to new ways of directly measuring advertising performance in real time.
"There's so much more transparency in business these days. Everything is measurable," says Mark Ellis, SVP of corporate sales at Time Inc.
Near-instant performance metrics have led sellers to work hand-in-hand with clients in a way that differs from the month-to-month process of traditional print advertising sales.
"If something isn't performing, we want to be able to take advantage of the performance metrics available, but we also want to use that client relationship to course correct together," says Stacy Nathan, associate publisher, advertising at Seventeen. "When you've got a good relationship with your client, you're able to sit down and evaluate something that isn't performing, and do something about it rather than just pulling the plug."
Relationships between clients and sellers are as important as ever, but the increased pace of the business, a saturation of competitors, smaller marketing departments and a much larger focus on ROI have made relationships harder to form, says Ellis.
On top of everything, agencies remain heavily involved in the process, even if their roles are changing. Specialized agencies have become more of a presence, especially in digital and social media. The importance of the client cannot be underestimated, but there are often more decision makers to call on than ever before.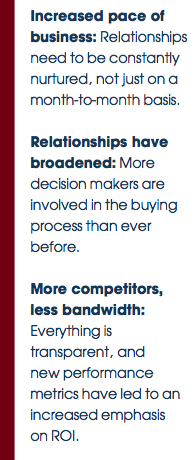 Sellers need to consider themselves as brands, says Weglage. If an agency is unfamiliar with a magazine or an individual seller, the ability to leverage an existing client relationship is imperative.
How Sellers Are Responding
Even as the dynamic shifts, traditional rules still generally apply. As with any relationship, trust is the most important factor. In an age when advertising can take on any of a multitude of formats across various channels, great ideas that connect them all together remain paramount.
"What we try to do every day with our clients is continually improve on the work we provide," says Felix DiFilippo, publisher and CRO of Hearst's Car and Driver and Road & Track. "The idea is that over time that trust builds up and they come to us to provide solutions. That's the most important thing. We want to understand, ultimately, what our client's objective is."
Weglage recommends a consultative approach. Providing accurate information, rapid customer service, and simply being honest are essential to building client trust. Don't ever just sell a program and then disappear, he says.
"You have to be open and honest," adds Nathan. "The best relationships occur when people that want to work together make sure you get the best out of your campaign."