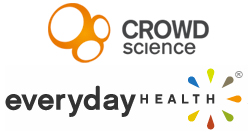 With 24 sites in its portfolio, digital publisher Everyday Health has a large amount of content to create and sizeable ad quotas to fill. To better understand its audience as well as satisfy client needs, Everyday Health has partnered with market research provider Crowd Science for the past three years.
"We use it to gain consumer insights, ad effectiveness and audience profiling. We also use it to gather information about our users, become smarter about how to develop products and to offer info/ insight/campaign performance metrics to our clients," says Carolina Petrini, VP of market research with Everyday Health, a division of Waterfront Media.
Petrini explains how both the Web analytics and survey options provided by Crowd Science's CITRUS platform aid Everyday Health's clients beyond ad response measurements. "We have done work for companies in therapeutic areas, as well as manufacturers of prescription medications: they really want to know about people who suffer from depression or mood disorder, some of whom may or may not be diagnosed formally. We use Crowd Science surveys to ask those questions," says Petrini.
This accuracy is in part due to the large number of registrants on Everyday Health's properties, which allows Petrini's team to vet appropriate survey respondents.
And the technology is providing results. A recent Crowd Science survey focused on depression and how it related to user behavior. A Crowd Science reps says of the conclusions, "The study on depression and how Wednesday morning is actually the worst day for us was interesting. Pharma advertisers would then run special ads and banners on Tuesday to help discuss anti-depression treatment."
Findings of the study provided a deep dive into respondent demographics, including gender, income, medical diagnoses and location.
Everyday Health is considered a legacy software client, as Crowd Science originally was positioned as a software company. Now, the tech provider operates on a rev share model. Crowd Science CEO Corey Leibow says, "Crowd Science will earn ten percent on new revenue gleaned from higher CPM rates earned with our identification of new audience segments and new revenue streams."
Otherwise, according to the Crowd Science rep, the publisher doesn't pay for the CITRUS platform.