Every Day with Rachael Ray Relaunch Debuts with May Issue

Five year anniversary relaunch focuses on both content and design.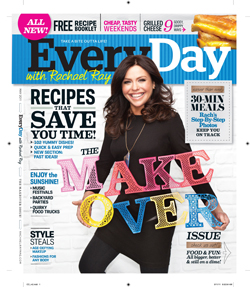 Around the five year anniversary of Every Day with Rachael Ray, Liz Vaccariello, editor-in-chief, noted that the "architecture and pacing [of the magazine] were off".
Vaccariello, who joined EDWRR in November 2010 from, has led a relaunch of the food and lifestyle magazine. Debuting with the May 2011 issue, Vaccariello said, "We completely reorganized the magazine." The magazine is now broken into four distinguishable sections: "Specials of the Month," features specific to the current issue; "Found in every issue," which are regular columns; and "two clear front-of-book sections," "Fun" and "Food."
"These run up to a new feature well and a rich back of book experience meant to evoke the conversation that Rachael [Ray] has with her fans, that readers have with our test kitchen team and other experts, and that we have with cooks and celebrities everywhere," Vaccariello said.
New columns include "How Cool is That," "You'll Wanna Do It" and "Makeover Takeover."
Design and photography have been rethought in the relaunch process. The pages now include sketches and handwriting-like fonts; three dimensional slugs and textures like notebook paper, grocery bags and paper clipped items are seen throughout the copy. The photography has been made "more approachable," with special attention paid to the food shots included in the magazine.
Digital offerings were also ramped up during this relaunch. Vaccariello shared that five regular columns have monthly mobile apps "where readers can shoot the on-page jag tag and download extra content, shopping lists [and] special reader deals." Slide shows and videos are included with the more popular EDWRR stories. The digital version of the magazine is now available through Zinio and Nook versions.
"We want to turn things up at newsstand and increase ad revenue…I've been on the road for the last two months showing the new product to key advertisers, and the response has been terrific," Vaccariello said. "Next, we turn our attention to creating new digital products."
EDWRR experienced a 9.2 percent loss in ad pages in 2011's first quarter compared to first quarter 2010, dropping from 117.64 to 106.85 pages, according to the Publisher's Information Bureau first quarter report.
Meet the Author
---