Events: The REAL Media Star

An exclusive survey from FOLIO: and Expo Magazine.
A 2008 white paper from media banker DeSilva & Phillips and AMR International characterized events as the "star of old media." However, as print continues to decline and digital often struggles to live up to the hype, events are more than just the star of old media, offering higher profits than print and far higher revenue than digital. Many b-to-b publishers make or break their fiscal season depending on the performance of an event.
In a FOLIO: article earlier this year ["Where the Dollars Are Going in B-to-B," May 2011] BZ Media CEO Ted Bahr said he's chosen to "throw more money at face-to-face events where you can build a brand for your trade show or conference. Successful event brands often have a high barrier to entry, can survive Internet disintermediation and have excellent margins. BZ Media will get more than half of its revenues from shows in 2011."
Events are a proven entity, according to Bahr. "We have found that events are a relatively low-risk investment that, if they work, can be very profitable," he adds. "Unlike many other media which have been destroyed or at least greatly altered by the Internet, face-to-face events have not been affected as dramatically as long as there is high quality content."
While Hanley Wood struggles with reports of an impending debt reorganization and the prospect of closing several magazines (CEO Frank Anton last month said the company's three core brands—Builder, Architect and Remodeling—will remain safe) , the company is seeing growth in events and custom marketing and Anton predicts that "almost all of the shows will outperform 2010."
In a joint survey with FOLIO: sister magazine Expo, we asked media companies about the role of events within their organizations, ranging from profit margins to new launches going into 2012 to how virtual events and "hybrid events" are best used.
Event M&A: Multiples Down
Eighty-four percent of respondents say they haven't acquired an event in the last 12 months, and 69 percent say they have no plans to acquire events over the next year [Charts 2 and 3].
In its 2011 "Merger and Acquisition Prospects for Media, Marketing Services and Marketing Technology Firms" report, media banker AdMedia Partners asked prospective buyers what EBITDA multiples they would be willing to pay for select media properties ranging from print to digital to events. For exhibitions, trade shows and conferences, 5x was the average range given, up from 4x in 2010 (but down from the 7-10x range prospective buyers were willing to pay between 2005 and 2008).

Meanwhile, there were 18 acquisitions of event companies worth $371 million in the first nine months of 2011, compared to 18 deals worth $109 million for the same time period in 2010, according to media banker the Jordan Edmiston Group. Much of the value increase was led by the $173 million buyout of George Little Management, the U.S. trade show platform of Daily Mail & General Trust, by publishing veteran Charlie McCurdy and Providence Equity Partners.
"I've had extensive experience in what has come to be called the niche media space," McCurdy told Expo Magazine in October. "Early this year, as I looked out on the terrain as to where opportunities and risks are, I continued to like the business-to-business media space in part because the depth of information that is available regarding the activities of its audiences, as compared to consumer media. And I think that's a key area of differentiation—the 'decommodification' of what a media firm can offer marketers."
And within b-to-b, events remain especially attractive. "The trade show business was impacted by the recession as everything was, but it does not have the obvious disintermediation challenges that print has," McCurdy said. "And digital and data services, properly employed, should have good growth opportunities ahead. As a result, I was focused mostly on businesses that had strong positions and potential for growth in those three categories—trade shows, digital and data—and less focused on print assets."
Launches
While respondents were evenly split between "yes" and "no" when asked if they launched any new events in the last 12 months [Chart 4], 54 percent say they plan to launch new events in the next year (compared to 46 percent who say they don't).
"We launched the first Android Developer Conference in March and it was quite successful so we are producing another one in November," says Bahr. "The investments can vary but usually are around $150,000, minimum, plus staff time. If the event is successful then the costs go up, of course."
Bahr says it's important to note that BZ Media events tend to attract 50-80 percent of their revenue from attendees who pay $1,000+ for a three-day technical conference. "We are not talking about the large, trade show floor-driven events," he adds. "For 2012 we have three new events on the drawing boards."
IDG Enterprise launched a mix of national, local and custom events over the past year. "We have 15 national events across the brands, we did 25 regional events, we do a lot of executive round tables and dinner discussions," says Ellen Daly, senior vice president of events. "Those are single-sponsor events. We do custom events as well. If nothing in our portfolio is the right fit for them, we build a custom event."
IDG launched a custom event in the spring called Security Confab, from the CSO brand. "We hit all the goals on attendance and revenue," says Daly. "It's a small event for high level security officers. We had about 150 people. We're doing it again this year."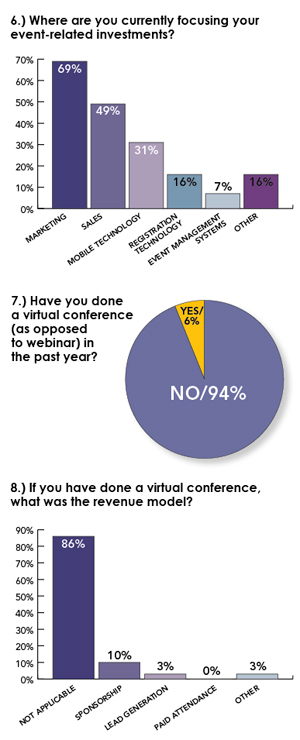 Publishers should verify a need for an event rather than coming up with an idea and then trying to find an audience, says Daly. "I think it is an okay environment to launch things in, if you're careful about what you're launching," she adds. "If you're launching, make sure there's a need for it. We launched a cloud event two years ago, we held that again last year and we'll hold it again this year. It's amazing how many cloud events have been launched since. In the first year we had some competition, this year we had a lot."
IDG Enterprise is launching an event in March which is on the consumerization of IT. "We're aiming for 500 attendees," says Daly. "Our sales people go out and talk to vendors, and get a sense of support. We've gotten a lot of support for it; we got a couple of underwriter sponsorships the week we went public with it. Sometimes these topics present themselves."
Cutting edge topics are often better served online or in print than they are at a live event. "The down side to all that is when you are with a media company, what people are talking about in print and online is not necessarily important enough for them to leave their offices to talk at a live event," says Daly. "Sometimes we're a little early in what we want to talk about. We did a one-day session last year on 'big data,' and really, people are talking about it, but it's not big enough or close enough to their lives that they can get permission from their boss to go to a full day session on it. We held it, and I think the content was terrific, but we had lower numbers than we had hoped for because people are e-mailing on it, going on social sites and talking about it; but I don't think it's really in their faces yet."
Repositioning for Growth
As profitable as events are, they aren't recession-proof, as many publishers learned the hard way in 2008-2009 when the recession took a toll on travel and education budgets. The exhibitions industry declined 12.5 percent in 2009 alone, according to the Center of Exhibitions Industry Research.
That's prompted many publishers to take new steps to revitalize their shows. In 2010, Canon Communications launched three DesignMed events that were co-located with its Medical Design & Manufacturing shows in the U.S. The goal was to have a 10-to-1 attendee to exhibitor ratio. "When we see this metric or better, we see at least 70 percent on-site or at-show space renewals with signed contracts and deposits. When we don't, the at-show space selection tells a different story," said events senior vice president Kevin O'Keefe at the time.
Events account for about 90 percent of revenue for Penton's New Hope Natural Media group and the largest events are Natural Expo West and East. After taking a big hit on events in 2008, New Hope Natural Media  adopted a three-year plan to change not only the flow of its Expo East show in terms of timing but also what people were doing at the show and with onsite orders.
New Hope returned its event to Baltimore after experiencing a "pretty significant decline" when it moved the show to Boston after the economic crash in 2008. "The community focus is really there—since the decline of traditional print products, we're able to recapture some of that audience in person, as they realize how important it is to connect with community. We're able to develop products that do that," says Erica Stone, director of Natural Products Expo East. "When we went to Boston, the cost was significant on all sides. For the organizers, and for the attendees and exhibitors, the sense of community was completely lost."
Expo East introduced an extensive host buyer program and saw significant growth in exhibitors, with 200 more from 2010 to 2011. "What we're seeing is that people are really engaged in the buying process," says Stone. "The three-year plan may continue for the next 10 years. It's given a new perspective on what New Hope as a media company looks like in terms of caring about the clients, and being a part of the market. It gives us an opportunity to look at other products to augment our business and the business of our constituents."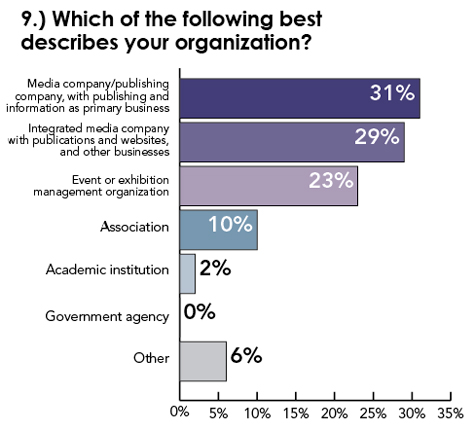 Investing in Events
When it comes to event-related investments, the majority of respondents say they are focused on marketing, while 49 percent are focused on supporting sales [Chart 6]. However, the third largest area of investment is mobile technology (31 percent).
"We are making a push technology-wise for apps that support events and make the events more interactive, especially given our core demographic of that male 18-34-year-old, those are the early adopters of technology," says John Marriott, head of Source Interlink Companies Business Intelligence Division and SVP, general manager, MotorTrend Auto Shows. "That demands that you have mobile applications that tie into those events. We're also investing in upgrades on our ticketing capabilities—point of sale equipment that allows us to use iPhones that take credit cards right at the point of sale rather than the old fashion thermal paper ticket printers or the old roll ticket stock. We'll be rolling that out in the next month or so at a few events."
For Marriott, each channel is tied to another.
"I think the big take-away is none of our events stand alone, every one is tied into several other forms of media—they are tied to a print brand in one way or another, it's tied to a website, in some cases it's tied to a mobile app so we're really trying to be in a place where the whole is bigger than the some of the parts and the events are just one part of that whole sum."
 
Virtual Events
Virtual events have evolved from being seen as a potential replacement for live events to being best used in conjunction with live events.
Just 6 percent of respondents say they've conducted a virtual conference (not webinar) in the past year [Chart 7]. Of those who did, the majority are focused on sponsorship as the primary revenue model, with some looking to lead generation. No respondents charged for attendance at their virtual event and the majority (10 percent) say sponsorships were the lead revenue source [Chart 8].
"We had more virtual events over the last couple of years than we plan on doing in the coming year," says IDG's Daly. "They were only doing okay. Lots of people went to them, but getting them to stick around is hard. Sponsors are ambivalent about what they want to do about it. Some want in, some don't. It wasn't a bad business, but it wasn't a strong business for us."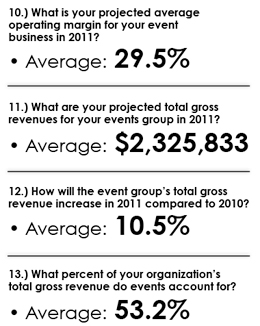 Profits/Performance
The projected average operating margin for event business in 2011 is 29.5 percent, according to survey respondents [Chart 10].
The projected total gross revenue for the events group among respondents is an average of $2.3 million [Chart 11]. Events also accounted for an average of 53.2 percent of gross revenue for survey respondents [Chart 12].
"In terms of revenue, conferences are different than controlled magazines or digital ad or lead-gen programs because you get all the cash from attendees and exhibitors before the show opens," says Bahr. "Your only upfront expenses are for marketing, as the facilities bill you afterwards."
Events are among the biggest profit contributors from a margin standpoint and in actual dollars for b-to-b publisher Meister Media Worldwide, according to president Mike DeLuca. "In 2012, events in all forms will represent 30 percent of our revenue, with 10 percent coming from e-media and the rest from print advertising and custom work," he adds.
Meister Media's event business is growing steadily in both number of events and diversity of formats (conferences, trade shows, hybrids, custom, in partnership with other organizations). "In 2011 we will have produced 12 events of various sizes and types," says DeLuca.  "In 2012 we will produce 18-20 events. We produce conferences, conference/trade show, buyer/seller events and custom events for clients. We did a program for a Bayer CropScience launch centered around a series of five events which we produced to roll out a new product in the cotton market."
Journal Publications does two types of events: those catering to the audience of its business journals (including a 40 Under 40 event) and those supporting its consumer parent magazine.
"Around here we talk about the power of three: print, web and in-person. All three have equal weight within our company," says CEO David Schankweiler. "We only can do so many awards-type of events, we do symposiums and we've added those types of things. It's not going to grow as a greater percentage of our bottom line but it's going to continue to grow as our print and web dollars grow."
What If There's a Double Dip? 
Many b-to-b publishers enjoyed solid growth in events and surprisingly, print, in the first half of 2011. But some started to see weakness creeping back in during the second half of the year. While softness in print might be expected, another drop in events could be devastating. Some publishers are taking steps to protect themselves.
"Another recession could definitely hurt our events and the last one did so in 2008," says Bahr. "Back then we had just expanded into larger hotels with larger room blocks and higher room rates for attendees on two of our events. The bigger room block plus the higher rates and the crash of the economy led to a perfect storm and we got hammered. For our 2012 conferences we have approached room blocks with more caution, kept the room rates low and also lowered the cost to attend slightly. In addition, there was a show we were on the fence about doing again and we probably won't take another chance on it because of the outlook. We have taken down the risk."
Global events can also have a big impact. "This year, in addition to our U.S. events, we produced events in Nairobi, Buenos Aires, Mexico, and next month Kuala Lumpur," says DeLuca. "Next year we'll have events in Ghana, Bangkok and Vietnam, so we are not afraid of risk. Economic health is only one thing to worry about. Weather, terrorism and sudden political instability keep me up at night. But when my head hits the pillow, I know that if we create compelling content, provide a valuable buyer/seller interaction and mitigate our logistical risk, we will have done all anyone can do to ensure success."
METHODOLOGY
In October 2011, FOLIO: and EXPO magazines sent an email survey to 1,832 executives and managers with publishing and media companies, event producers and associations. Fifty-three responded for a 2.9% response rate.
Meet the Author
---