Event Producers Take Over as Publishers at 944 Media

Team to head advertising for L.A. edition; company planning New York launch.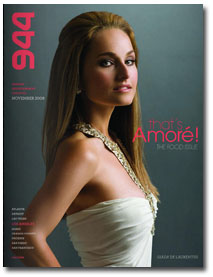 Looking outside the traditional realm of magazine publishing, 944 Media CEO Marc Lotenberg has hired a pair of event producers as publishers. Brent Bolthouse and Jenifer Rosero, partners at Bolthouse Productions, have been tapped to head advertising efforts at the Los Angeles edition of 944.
"We've always had a challenge working with traditional publishers—what they do just isn't what we're doing. In an overall picture, 944 is more of a marketing company than a traditional publisher, and they don't get that," 944 CEO Marc Lotenberg told FOLIO:. "You take people like Brent and Jen, who have such a rich marketing background, and deep relationships built up across the country, the logical  next step is to figure out how to monetize those connections beyond just producing events."
Bolthouse and Rosero come to 944 after a six-month period during which the magazine had only an interim publisher, according to Lotenberg, who was named to the 2009 FOLIO: 40. "We hedged our bets knowing they can't not let this be successful," he said.
In addition to nine regional publications, 944 Media is made up of an in-house events and marketing agency and Ink Grenade, a custom publishing and design firm. The company also is planning to launch an edition of 944 in New York, Lotenberg said.
Meet the Author
---