Event Planning in a Tight Market

How to keep packing 'em in despite rising travel costs.
Soaring gas prices, airfare and hotel rates are now affecting one of the largest growth areas for publishers: magazine events. While American Business Media says events have eclipsed print as the largest revenue stream for its members, skyrocketing travel costs could dampen the party for both b-to-b and consumer publishers. According to the Society of Independent Show Organizers, 50 percent of respondents to a recent Travel Costs Survey say they expect a moderate impact on their events business while 39 percent said it will be a great impact. Forty-one percent of respondents say they expect to see a 10 percent drop in expo attendance over the next 12 months.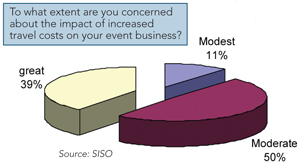 And with most event venues booked several years in advance, there's little publishers can do. "Mostly I am downgrading my attendee revenue estimates," says Scott Wolters, director of tradeshows and conferences at BNP Media. "If we are considering launching an event or holding an annual event again and it will not or has not met what we set as minimal profit levels, we will not move forward. On the other hand, our online events are going through the roof."
To cut costs, BNP is doing less direct mail, less travel (including conducting more site inspections online) and less outsourcing.
Still, the reality is attendees are limiting their travel. "People are not going as deep into their organizations as they used to," says Galen Poss, president of Hanley Wood's Exhibitions Division. "They used to bring seven or eight people. Now they bring four or five. Instead of staying three or four days, they stay two days." While the World of Concrete show was flat and the Surfaces show was down slightly in attendance, Hanley Wood's event business grew double digits last year and will grow again this year, according to Poss.
More Bang For The Buck
Publishers should be leery about cuts that will affect the onsite experience. Hanley Wood has added "Live Action Clinics"—a series of training seminars for attendees—that take place on its exhibit floors to drive exhibitor traffic and give attendees something extra. "We're trying to build a value proposition—if people are still spending the same amount at your show, you have to give them more for their money when things get slow," says Poss.
The publisher will also co-locate some events, such as the Construct Show and DFM in 2009. "They will be held as a co-location so exhibitors and attendees get twice as much bang for the buck," says Poss.
Smaller, More Local Events Are In
Consumer publishers often take their events to the audience via mobile tours. Gas surcharges, which event agencies include to cover gas price increases, can cost an average tour $3,000 to $5,000 quarterly, according to Folio: sister magazine Event Marketer.
Instead of cross-country tours, some publishers are turning to regional-specific events as well as one-day events. Make enjoyed better than 50 percent annual growth for the Maker Faire, which drew more than 65,000 attendees in May. "We're trying to bring the Maker Faire to regional markets so that people can attend without having to get on an airplane and in many cases, even avoid hotel stays," says associate publisher Dan Woods. "We are also beginning to host smaller one-day 'Maker Square' events."
Working Mother Media, which produces 20 to 30 events per year, including the Multicultural Woman National Conference, is also considering smaller events. "We're creating more customized and topic-specific events, including virtual events and smaller one-day or custom-built events," says director of programming Janet Wigfield.
Still, events have proven resilient during past slumps. "The face-to-face sector is usually later to go into a downturn and, in many cases, can be fairly quick to come out of it," says Poss. "Exhibitors may hold back their participation but they usually don't pull out because it sends a very confusing and troubling message to the marketplace."
Meet the Author
---