From Event to Content

UBM Electronics parlays conference into content destination.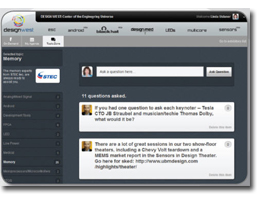 Despite the enormous amount of preparation that accompanies a large event or conference, after it transpires, there is often little left to remember it by. UBM Electronics is aiming to change that with its Design West website. The site was originally positioned as a destination for Design West attendees, UBM Electronics' largest U.S. conference, which took place from March 26 to 29 in San Jose, California.
"Now, we want it to be a year-round destination; it won't be just Design West, as it will become UBM Design," says Linda Uslaner, marketing director of events with UBM Electronics. "People will be able to look back at Design West, or navigate towards our upcoming event, Design East in September in Boston. It is an on-demand content environment."
This year's Design West event encompassed seven summits under one umbrella, so attending engineers were able to take advantage of learning in Android technology, imbedded security and design, medical technology and censors and design. Uslaner says, "We took the expo and added zones to the floor that corresponded with topics in the conference in order to make it a holistic experience. We then did the same on our website."
Design West's website launched in November 2011. The Electronics team worked with McClenahanBruer Communications, Reaction Stream and UBM Studios to launch the site from scratch. "We wanted to increase the amount of interaction that people had on the site, as well as what they do before, during and after the conference," Uslaner tells FOLIO:.
Design On Demand is a large portion of Design West's content offerings. Conference attendees are able to access presentations, white papers and video from the event. There is a vault for older archived materials, as well as a video vault. Before the conference, attendees were able to log in, add papers to their virtual briefcase and schedule classes. The scheduling option is now disabled, but the filing system is still available. The "topic zone," a section dedicated to technology questions, classes and speakers, is still running on the site as well [pictured, right].
The personalization aspect of UBM Design is of particular importance to Uslaner and her team. Users are able to integrate their Linkedin profiles, and the personalization push will continue as the site rolls over to its year-long format in upcoming weeks. "Our goal is to be able do more recommendations: 'if you like this, here's more content that's similar,' and serve it up to readers," says Uslaner. "We'll eventually have the capability to recommend content from other events and sites as well."
Conference attendees are able to access the content for free, and some keynote presentations remain in front of the paywall. However, access to non-attendees will run from $200 to $400. Some conference sponsors are remaining on as advertisers for the website.
So far, over 12,000 white papers have been downloaded from Design West, with about 445,000 page views since its launch.
Meet the Author
---