Evaluating and Valuing Online Properties

'Capability' plays on the rise, but keep an eye on scale and EBITDA margins.
While digital content properties were once a popular acquisition target for publishers, more recent trends indicate technology companies, especially those that can provide a non-ad dependant revenue stream, are the flavor for 2010. Accordingly, performing due diligence requires a hard look at technology integration issues and revenue projections.
"We're seeing more interest in capability plays rather than straight content plays," says Tolman Geffs, co-president of The Jordan, Edmiston Group, referring to companies that enable a particular content or business model. This feeds into the current state of the industry in that advertising models are much less dependable than they used to be—print speaks for itself, but even online advertising was down 5.4 percent through third quarter 2009 compared to same period in 2008, according to a study by IAB and PricewaterhouseCoopers.
In Pursuit of New Revenue
Buying a technology-based operation, especially one that can facilitate yet another revenue stream that's not dependent on advertising, has become much more attractive.
"The model of publish content and sell ads, rinse and repeat is not sufficient by itself to support quality, original content," adds Geffs. "You don't have to start selling Webinars, but companies need additional revenue that flows from deeper user engagement and other revenue opportunities."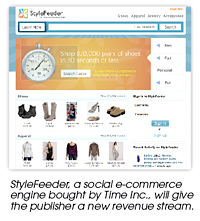 Time Inc. announced in January that it purchased StyleFeeder, a destination site and social e-commerce enabler for fashion products, in a deal The Wall Street Journal cited a source comment as "well into the eight figures." The company plans to integrate StyleFeeder's shopping technology into the InStyle brand, eventually scaling it to support People StyleWatch, People en Espanol and Essence as well.
The acquisition fits perfectly into the capabilities category. StyleFeeder is essentially a social shopping platform that aggregates content from thousands of retailers and surrounds it with personalization and community interaction features. Revenues are generated from splits with the retailers on each sale of merchandise that is accessed through the StyleFeeder platform.
Fran Hauser, Time Inc.'s president of digital for the Style & Entertainment group, said the deal was primarily a result of the company's four-tiered approach to online acquisitions. "Before we even evaluate an online property, we assess how attractive the category is as a whole. Is the market growing or underserved," she says.
From there, the acquisition must open up a new revenue stream or allow Time Inc. to capture a greater share of high-growth advertising categories, which, says Hauser, are still out there. In this case, StyleFeeder brings in instant e-commerce play.
Third, Hauser says the company should already have natural assets that complement and enhance the acquisition, as InStyle and its fashion content does for StyleFeeder.
Lastly, says Hauser, the acquisition needs to provide a "functional service or technology that complements our core service, which is content. Buying technology in the digital space that complements our editorial expertise is definitely attractive."
Determining Value
A value is arrived at by closely examining the company's operational aspects, says Hauser. Audience metrics are key—how many arrive at the site through search, are organically generated, or are bought via SEM.
If the company is projecting to double or triple its revenue growth in the out years, ask tough questions about that trajectory. "Where's this growth going to come from? What tactical plans are you guys executing to grow this revenue? If it's just that the market is growing then that's not enough," says Hauser.
If you're buying a company for its talent, or need to keep them on board after the acquisition, probe the likelihood that they'll stay and build an incentive plan to keep them.
Also involve your top technical executives, adds Hauser. "Do a major code and infrastructure review to make sure they're comfortable with the technology. Look at integration issues. Is the technology reusable on whatever platform your company is running on? Do that even before you go down the path of due diligence."
Wondering about multiples? They're still robust, comparatively speaking. One executive with knowledge of the M&A pipeline said forward revenue multiples are in the 3.5 to 4.5x range. EBITDA multiples are upwards of 9 to 11x.
Meet the Author
---